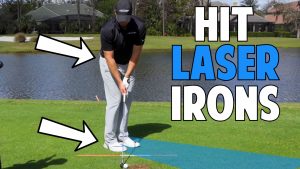 Why You Need This:
What's Covered: Feet Forward Shaft Lean Drill Practice Keys:
Start with a middle iron. (6-7 iron)
Putt your feet close together and turn your entire body 45 degrees forward. Make sure your toes are square to each other.
Play ball off right toe/ left ankle.
Rotate the wrists (extremely) to de-loft the face and square the face.
Feel as though the club is swinging to the right.
Hit 50% shots focusing on body opening, forward lean, very low draw shots.
Drill:
Hit 20-30 w/ Drill (Feet Forward) Trying to Hit Shots As Low as Possible
After You're Comfortable w/ Drill, Hit 20-30 Easing Into Normal Stance
Try To Hit Draw Shots & Not Blocks To The Right
Golf Pros Featured:
Instructors Featured: Clay Ballard
Video Duration: 14:14
This content is exclusively for those who have purchased the Ball Striking Masterclass.
It's not currently available, but we'll let our All Access Members know when it's offered again.
Become an All Access Member Now!