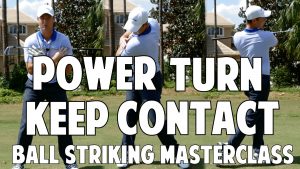 Why You Need This:
What's Covered: Drill:
Make 30 Successful Swings
Make a Good Power Turn & Brush Turf
Tips:
Just brush the turf easily. No chopping or missing the ground all together.
Let the shoulders rotate past the golf ball. Let the hips relax and turn.
Rotate to a full finish with right shoulder down the fairway.
Let the right heel come all the way up in the finish.
Golf Pros Featured:
Instructors Featured: Clay Ballard
Video Duration: 3:09
This content is exclusively for those who have purchased the Ball Striking Masterclass.
It's not currently available, but we'll let our All Access Members know when it's offered again.
Become an All Access Member Now!