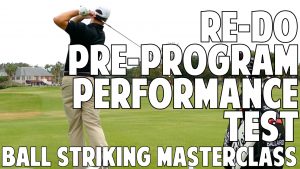 Why You Need This:
What's Covered:
Pick a 20 yard wide target (green) in distance

Hit a draw that lands in that 20 yard wide area.
Alternate so that the next shot is a fade and lands in that target.
Alternate between Fades and Draws until you hit six total successful shots.
Record number of attempts to complete (ex. 30 attempts)

Mark impact location on clubface

Put a dot on the range ball, use impact tape, or foot spray powder to record impact spot on clubface.
Track 5 shots and take a picture of all of the shots for your records.

Track divot location

Put a tee 1/4 inch in the ground w/ ball few inches behind tee. Hit ball and clip tee in front of ball.
Put a tee 1/4 inch in the ground w/ ball a few inches in front of tee. Hit back tee and the ball.
Complete this drill 2 times.

Write down your current Handicap. If you don't have a handicap, record your average score.
Golf Pros Featured:
Instructors Featured: Clay Ballard
Video Duration: 9:42
This content is exclusively for those who have purchased the Ball Striking Masterclass.
It's not currently available, but we'll let our All Access Members know when it's offered again.
Become an All Access Member Now!