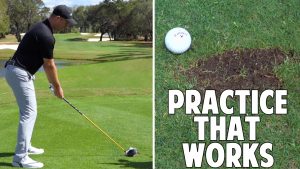 Why You Need This:
What's Covered: Practice like you would play on the course. Drill:
Start w/a wedge and focus on clean ground contact and a solid strike location on the face.
As soon as you start hitting some good shots, immediately switch clubs. Just like switching from one shot to the next (different clubs) on the course.
If you are struggling, keep focusing on the big 4 until you get in a slight groove.
Make sure to hit short, mid, and long irons. Also a variety of woods.
As you swing, find the piece of the big 4 that is farthest off, and focus on improving that piece.
Constantly adjust.
Golf Pros Featured:
Instructors Featured: Clay Ballard
Video Duration: 13:39
This content is exclusively for those who have purchased the Ball Striking Masterclass.
It's not currently available, but we'll let our All Access Members know when it's offered again.
Become an All Access Member Now!