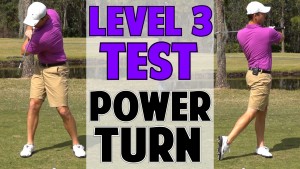 Why You Need This:
In this video we will test your Power Turn on video and see if you are hitting the checkpoints. For level three I give you several checkpoints to be sure to hit. Keep up the hard work on the reps!

What's Covered: Getting the feeling of the "turn" throughout the bag. We're going to hit every club and get the feeling of them with the power turn.
Golf Pros Featured:
Instructors Featured: Clay Ballard
Video Duration: 1:47
Watch This Video Now!
Normally, this video in our step-by-step, course-based training is only available to our All Access Members...
But I'll let you watch this ONE video today only... because I can already tell I'm going to like you !


Video Transcription:
Hi guys, here we are, Level 3. You're about ready to graduate from the power turn part of the system. You're starting to get those really powerful shots, you're getting loaded up, you're getting coming through.
In this one, it's all about just continuing to do the reps, but do them with every club. So we're going to go from a pitching wedge, to an 8 iron, and a driver.
What you're going to do is you're actually going to take out your video camera as you're on the range, and you're going to hit about 10 shots, and then you're going to videotape one.
So we'll start out with a pitching wedge, you'll just go through, do your normal routine, 10 shots. There we go, nice good turn angle in back and through. We're feeling pretty good with it, and then you're going to check on camera.
Then you're going to go to a different club, maybe your driver, your 3 wood and check on camera there. You're just going to keep on doing this until you've hit about 3,000 golf balls.
So this is going to take some time, or excuse me, not 3,000, that was on Level 1 and Level 2. You're going to hit about 1,000 golf balls over a period of several weeks to really, really engrain this.
So I want to make sure that you guys are checking back in every week when you're on the range actually hitting balls to see if that power turn is sticking around.
Once you've hit those golf balls, you've hit1,000 shots, 1,000 reps, it's going to be here to stay.
So we did 3,000 Level 1 pausing, we did 3,000 Level 2 doing the pause, full swing, and then actually hitting a ball. Here in Level 3 this is where the rubber meets the road.
If it's not sticking around when you're actually hitting the golf balls, you're going to want to go back to the earlier levels and work on more of the drills.
But this is going to make sure that we're actually in front of a golf ball, and we're hitting them.
Then also go ahead a film a few while you're out on the course, and make sure it looks exactly the way it does when you're practicing.
So knock these out, work hard, you're going to feel so much better, so much stronger. I'll see you guys soon.