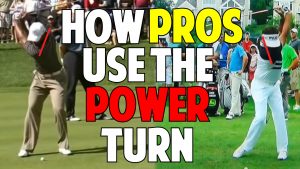 Why You Need This:
In this video, you'll learn how pro golfers use the Power Turn.
As you analyze many pro swings, it's important to take a close look at the swing moves that they all share.
Of course, there are plenty of moves that are noticeably different from one pro to the next, such as leg action and how high they bring the club at the top of the swing…
But there are only a handful of moves that pros perform similarly.
One of the moves that all pro players share is getting what I refer to in the Top Speed Golf System as the Power Turn.
In this video, you'll see how top pros such as…
Justin Rose,
Jack Nicklaus,
Nick Faldo,
Jordan Spieth,
Fred Couples,
Ernie Els,
Greg Norman,
Bubba Watson,
Tiger Woods,
Rory McIlroy,
Arnold Palmer,
Phil Mickelson,
Jason Day, and
Adam Scott
… all produce tons of speed with a full Power Turn.
Now, pros average around 118 degree shoulder turn.
Getting that much turn will likely be difficult for a lot of us non pros, but you'll learn a few tips in the video to help you get at least a 90 degree turn.
And the bigger turn you get, the easier it'll become to add speed and distance to your swing.
Watch now to improve your Power Turn!
What's Covered: How pro golfers turn their body to get swing power.
Golf Pros Featured: Adam Scott Arnold Palmer Bubba Watson Ernie Els Fred Couples Greg Norman Jack Nicklaus Jason Day Jordan Spieth Justin Rose Nick Faldo Phil Mickelson Rory McIlroy Tiger Woods
Instructors Featured: Clay Ballard
Video Duration: 5:21
Watch This Video Now!
Normally, this video in our step-by-step, course-based training is only available to our All Access Members...
But I'll let you watch this ONE video today only... because I can already tell I'm going to like you !