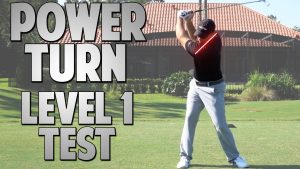 Why You Need This:
In this video we will test your Power Turn on video and see if you are hitting the checkpoints.
Key Measurements:
90+ Degree Shoulder Turn in Backswing
Come To A Full Finish
What's Covered: 300 Reps Large Variability (Practice Swing w/ Club Across Shoulders)
One repetition with club across the shoulders. Short backswing (only 45 degrees of turn) and short follow through (only 45 degrees of rotation).
One repetition with club across the shoulders. Good turn (shoulders 90 degrees or more, hips 45 degrees or more).
One repetion w/ club across shoulders. Too big of a shoulder turn so that you turn way too much and lose your posture.
All swings, club is pointing in the zone outside the ball.
Repeat 300 repetitions.
700 Reps Large Variability (No Ball, Swinging Club in Practice Swings)
Same as the first 300 but swinging club.
1 Short, One Good, One Long
Golf Pros Featured:
Instructors Featured: Clay Ballard
Video Duration: 8:05
Watch This Video Now!
Normally, this video in our step-by-step, course-based training is only available to our All Access Members...
But I'll let you watch this ONE video today only... because I can already tell I'm going to like you !


Video Transcription:
Hi guys, so now it's time for the Level 1 Power Turn test. We're going to make sure that we're going to get a good, full turn going back, coming through, and we're going to do enough reps to really engrain this.
When I tell you how many reps we're going to do here in a second, you're probably going to be thinking, "Is he serious?" But we've got to really do the reps, do the numbers, that way we make sure that it sticks forever.
We could do 100 reps or 200 reps, that's going to get us a good feel, it's going to get us started in the right direction, but if we never do more than that, then two weeks later it's just going to fall apart and go back.
If we do enough reps it's going to stick for good, so we're going to start out with 1,500 reps. You could do this over a series of several days, you could do 100 reps a day for 15 days, however you want to break it down.
We're going to do at least 1,500 though, of the very first one where we're going to start with the club across our shoulders, and what I'm going to do is as I rotate to the top, I'm going to get at least 45° with my hips, and I'm going to get my shoulders to 90°.
So if I'm doing this, if I have this club out from my shoulders, you can see now the club has gotten to past my ball. So anywhere, it's going to be out here in front of my ball, but anywhere where the shaft is pointing to the right of the ball.
Now if you're a little more flexible, if you're a Dustin Johnson, or a Rory McIlroy, or somebody like that, we're going to go even farther. You'll notice that those guys are getting a little past parallel with the hips and should, past parallel with the shoulders.
The hips still want to rotate about 45°, but now I'm going to get my club pointing all the way to the right of my shoe out here, that's on the back swing.
So we're going to just simply take a club across our shoulders, do the back swing, pause, and then we're going to come all the way on through.
As I come through my belt buckle is now facing down the fairway, my shoulders for those of who you aren't as flexible, are a little bit into the left rough.
Now if you're again, those really flexible players. You look at Adam Scott as he comes through, his shoulders are going to be facing all the way basically directly to the left of him as he comes all the way through to the finish.
If you're flexible enough to do that, that's completely fine. Make sure that right heel comes up as you're doing that, that's going to allow you to rotate on through.
We're going to focus on that.
So going back at least 45° with the hips, 90° with the shoulders as we're coming through, belt buckle toward the target, and then the shoulders are pointing to the left. If you're more flexible, they're going to go a little bit more to the left.
So 1,500 pausing, we're going to go back, pause, through, and then pause.
Now we're going to do 1,500 swinging. So the exact same thing, I'm going to just set a club down, I'm going to do 1,500 going back and through, no pauses, it's going to be like a real golf swing.
You could do all these in your living room, but that's going to be our Level 1.
Video tape this, make sure that not only does it feel right, that it actually looks right when you video tape it on camera.
Use your phone, use your iPad, use a camera, anything you can do to actually look at this and make sure that this is correct.
If we do that correctly, we're going to get nice and wound up, and we're going to be able to really hit the ball with a lot of power, and a lot of speed.
There we go. Work on these drills. 1,500 pausing, 1,500 full swings, you're going to be well on your way.
Good luck to you guys.