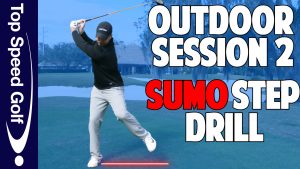 Why You Need This:
"Weight Left" actually causes you to fall right, and lose 30 yards while your at it.
Lets test weight left vs. weight shift and see which one is best for you.
Then we will go over a series of drills to perfect your weight shift.
What's Covered: This video covers how to properly use your legs for more swing speed. I call it the "Sumo Step"! --Refer to "Practice Keys" Tab On This Page For Full Details--
Golf Pros Featured:
Instructors Featured: Clay Ballard
Video Duration: 15:36
Watch This Video Now!
Normally, this video in our step-by-step, course-based training is only available to our All Access Members...
But I'll let you watch this ONE video today only... because I can already tell I'm going to like you !