Links to your video lessons are below.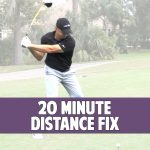 You're about to do something different. This isn't the story you've been told about distance.
No lifting weights, no stretching, no buying new drivers, no seeing small gains that happen over months!
This course will teach you the secrets I've learned about distance over the past 15 years, 1000s of lessons, and tons of yards gained!
Here's the course layout:
-3 weeks
-2 outdoor drills per week, warmup, 20 shots in 20 minutes
-1 indoor drill per week, warmup, a few technique drills and 20 max speed swings
-2 Big Hitter's Mindset audio lessons per week, busting myths and misconceptions
Follow these drills and start out driving your friends!
Make sure you measure your results and keep track of your starting speed and max speeds.
Course Materials