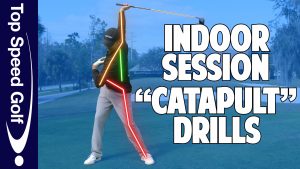 Why You Need This:
You've been told, over and over, swing compact! But, that's not what the pros are doing… They are getting massive shoulder turns, and high, free flowing arms! But how can we do that, if we aren't as flexible as the pros? I'll go over how your left heel will unlock flexibility you never knew you had!
What's Covered: This video covers how to improve your "Catapult", even if you aren't flexible, right from the comfort of your living room.  --Refer to "Practice Keys" Tab On This Page For Full Details--
Golf Pros Featured:
Instructors Featured: Clay Ballard
Video Duration: 9:49
Watch This Video Now!
Normally, this video in our step-by-step, course-based training is only available to our All Access Members...
But I'll let you watch this ONE video today only... because I can already tell I'm going to like you !