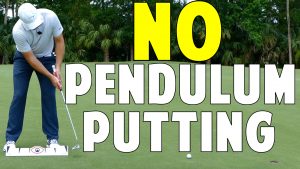 Why You Need This: In this video, you'll discover why you DON'T want a pendulum putting stroke.
Now, I'm sure you've heard something like this before...
"Imagine your putter as a pendulum."
That sounds really good, kinda like a pendulum stick of a grandfather clock rocking back and forth.
But... That's a myth!
The problem with thinking that your putting stroke is a pendulum is that it can cause you to decelerate on putts, which leads to inconsistency.
Don't believe me?
A study by SAM PuttLab analyzed the putting strokes of 99 players on tour between 2003 and 2005.
What they discovered is that pros take the putter back on average 36% and putt through 64%.
That's far from being a 50/50 pendulum stroke.
The reason why you don't want to putt with a pendulum stroke is that if you take the putter back the same amount you move it forward, you'll have trouble accelerating through the ball.
And in order to increase your putting consistency, you need to accelerate through the ball.
Watch this video now to discover why you don't want to putt with a pendulum stroke...
And get your stroke closer to a 36% back, 64% forward split and make more putts!
Golf Pros Featured:
Instructors Featured: Clay Ballard
Video Duration: 6:53
Watch This Video Now!
Normally, this video in our step-by-step, course-based training is only available to our All Access Members...
But I'll let you watch this ONE video today only... because I can already tell I'm going to like you !

Video Transcription:
Hi guys, I've got a great video for you. We're going to bust some of the biggest myths out there in putting.
One of the things that I was always taught is when you're putting you want to be very consistent back and through.
So if my putter goes back a foot, it needs to go through a foot. Kind of like a pendulum stroke, or a grandfather clock, back and through, very, very consistent.
That makes a lot of sense, it sounds really good. Nice and even stroke, makes a lot of sense. The problem is that can actually lead you to decelerate on some putts, be inconsistent with your timing and your stroke and your tempo.
Let me tell you a little bit more about this. Recently I did a certification with a company called SAM PuttLab, and they've done a ton of research on the Tour and a ton of research with the putting stroke.
So the SAM is an actual machine, it's an ultrasound machine that sends out waves and then you attach these special clips to your putter, and it reads really highly detailed information about what your putting stroke is doing.
So how far back and through we're putting, what the angle of the face is, how much loft is on your putter, whether you're hitting up into the ball or down into the ball. All kinds of information, pretty much everything that you're doing with your putting stroke.
Now the cool thing about SAM is, from 2003 to 2005 they actually went out on the PGA Tour and they measured 99 players on Tour and they used that as kind of their database to see what the Tour average is. What are the best players in the world doing when they're putting?
What they found is, when they're putting, they're taking it back about 34 percent, so let's imagine here my ball is where I'm making contact.
I'm taking this putter back 34 percent, and then through the ball, I'm swinging through, excuse me, I'm taking it back 36 percent, I'm swinging through 64 percent.
So I'm swinging through, if you want to make it really, really simple, about twice the distance I'm swinging back. I'm swinging back 36, I'm swinging through 64, or one back and two through.
You always want to be accelerating through the ball. Now that's very important because if I have this kind of pendulum stroke where I go back a foot and through a foot, I actually have to start slowing my putter down because it's built up some momentum.
I have to start accelerating a little bit slower so that I don't go through too far, and that leads to a little bit of inconsistency with the stroke.
Now if we want to practice this, there's a great way to do this with our EyeLine putting rail. I think this is a great tool, it really helps you to kind of groove a stroke in there.
Let me talk a little bit more about how to use this in a second. But one of the things that I like to do, I like to see here, is I can set up a camera and I can look because it has kind of marks on there showing how far back and through I'm going.
I can get a good, general idea of how far back and how far through I'm going. If I'm taking it back to two marks back, and I'm hitting through two marks through, I know that I'm not accelerating enough through the putt.
I want to get a little more pop through the ball to get that ball rolling nicely and to get a little bit more consistent.
So we're not going to worry about today, exactly how many lines we're going back and through, and I'll tell you why here in a minute.
I can set up a camera and see right away if I'm in the general ballpark and accelerating farther through the ball than I am going back on the ball.
So I'd recommend highly working with this first to get a good feel for what that's like and getting a good visual feedback of what you're doing.
Now if we want to take this a little bit more advanced into what we talk about a lot of times, variability training, mixing this up.
I can putt on this rail thousands of times, and that gives me a good blueprint, it gives me a good overall idea of what a good, consistent stroke is going to feel like being nice and on that same arc every time.
But when I take this away, things are going to be a little bit different. One of the things I'd like for you guys to do, is after you've putt a few with the rail, and you notice that your stroke length is pretty consistent on there, it looks nice. Let's take some off this rail. We can kind of go back and forth.
Now the advantage of taking it off the rail is now it's kind of like taking the training wheels off your bike. When I have the putter against the rail, the rail is always going to guide me. It's going to make it straight back and straight through.
I can actually pull with my arms back the incorrect way, and my wrong muscles could be firing, and it's still going to kind of force me to go in that overall idea.
So nothing is going to give you a perfect stroke other than taking off the training wheels and making some real putts and kind of adjusting based on variability.
The first thing I want you to do now after you've done a few with the putting rail, which is great to start out with, is let's go ahead and hit a few.
We're going to get the camera back out again, and we're going to see if that same stroke length holds true when we take the rail away. If it does, we're doing really good.
Now another thing that we can do, working with the same idea of variability training, is let's do a few that are about a third back, two-thirds through, or 36 and 64, just like we want to do.
Then let's try to vary that where we actually go a little too short back and ten to far through. This is going to give you a feel of what is too short of a backstroke, and too much acceleration coming through. I'm going to feel a little bit jabby when I do this.
I'm going to try on this putt just to come back to about right there, and then I'm really going to come through the ball to feel too much exaggeration, or too much on the other side of it.
Now I know I'm just really popping that. I'm going to have a tough time with consistency in my putting if I'm doing that, because I'm really having to kind of jab at the ball.
The more common one would be, and what they found through their data in SAM PuttLab measuring amateur players, thousands of amateur players, is that generally speaking, players are taking their putter back way too far and now w have to slow down coming into the ball.
Now, I'm going to go ahead and take my putter back way back here, and then I'm going to try to slow down coming through so that I'm actually decelerating a little bit. Let's try that out.
I could really feel there, even if I make one, I feel like the putter head's really unstable because I'm not training, or I'm not accelerating through the ball.
It's really good to not only practice the right way, but to actually practice the incorrect way as crazy as that sounds, so we get a good feel for the spectrum of what's too short, what's too long, and then how can I take that out to the course.
Once you've done that, go ahead and hit about 20 or 30 putts on your putting rail, or another type of device that you have to kind of give you the feedback. Measure to see how far you're coming back and through.
Then let's hit another 5 or 10 putts off the rail, see if that looks pretty consistent. We're going to come back to the rail again. We're going to do some that are too short, accelerating too hard.
We're going to do some that are too long, decelerating, and then we're going to come off the rail and try to recreate that perfect in the middle spot with the great tempo.
I want you to practice this not only with one length putt, but once you finish that we're going to go with a few variable-length putts, so some a little shorter, some a little farther.
Now that's going to really help you to get a feel for what that tempo is. You're going to lock into that rhythm, so tat you can accelerate through the ball every time. You're going to drain a lot of putts and make a lot of money off your buddies. So have fun out there, I'll see you soon.