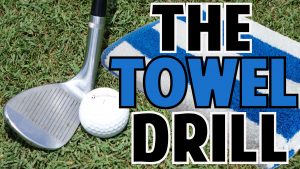 Why You Need This: In this video, you'll learn a fun and effective wedge distance game to make more birdies...
And lower your scores dramatically.
Most of your birdies will come on par 5s where you're close to the green after hitting your second shot.
But let's get greedy...
I want you to make tons more birdies on par 4s where your second shot is within 120 yards or so.
To get better control with these shots...
...I have a fun "Towel Drill" for you.
This drill will help you get a better feel for your longer wedges.
Start off by laying a towel about 20 yards away and see how many shots it takes you to hit the towel on the fly.
As you get better with this drill, move the towel back in 10 yard increments.
This will really help you with your distance control.
But what about the actual swing?
Here are a few tips for your wedge shots...
Keep your body moving through contact but avoid getting tons of lag and whip that you would need for a full swing.
Make sure your hips, shoulders, and arms all work together.
Get minimal wrist set in the backswing.
Adjust your backswing by the distance you need to hit (longer distances require a longer backswing)
Hold your finish to focus on where your ball lands so you can get a good feel for distance control.
Watch the video now to use this wedge distance game for developing precise distance control...
And make more birdies with your short game!
Golf Pros Featured:
Instructors Featured: Clay Ballard
Video Duration: 5:04
Watch This Video Now!
Normally, this video in our step-by-step, course-based training is only available to our All Access Members...
But I'll let you watch this ONE video today only... because I can already tell I'm going to like you !

Video Transcription:
Hi guys, welcome back to Top Speed Golf. In today's video we're going to talk about how to go low, how to make a lot of birdies.
Now most of those birdies are going to come on par 5s, you get up close to the green in two, and you need to wedge it up right by the hole, or on short par 4s, where you're inside 100 yards.
That's almost all your birdies are going to come from inside 120 yards, which are going to be these distance wedges we're going to talk about today.
A fun drill that I like to play, you can get a couple towels. I started these out, the first towel is about 20 yards from me, the second one is 30 yards, and you can go in 10-yard increments.
You can bring as many towels as you want, as long as you have one towel you should be fine, but I'll start out about 20 or 30 yards. Then once I land one that actually lands on that towel, on the fly, then I'll move it another 10 yards farther.
So these 20 and 30-yard shots aren't too tough, as we start getting out 50, 60, 70 yards, they get a lot more difficult.
Now I like to keep a book with me, and I'll keep track. Towel number one, how many shots did it take me t get one to land on that towel on the fly? Then I'll write that number down, then I'll go towel number two, number three, number four.
We're going to go as far as you want to, all the way up to 100, 120 yards. If you're a beginner to intermediate player you may want to stick with those under 50-yard shots, those are going to be a little bit easier.
But then I can compare those time over time, and I can see in my log book just how much better I'm getting with my wedges, how much more control that I have.
Now that we know that, great drill to practice. Let's talk about what we want to be focusing on as we're doing this drill.
Number one, I want to keep my body moving through contact. I'm talking about my hips, my shoulders, my arms. In a full swing, we're going to get some lag in the downswing. Our body actually starts to decelerate, and then our arms kind of whip on through.
It's going to give us a lot of acceleration and a lot of distance. In these short game shots, I don't want to have that happen. I actually just want to keep everything rotating on through the shot nice and consistent.
So my hips, my shoulders, my arms, everything's going to feel like it's working together. I may have the feeling if I stuck this club in my belly button, that I'm getting everything to work on through just like this.
Now I will have some forward shaft lean as I'm coming on through. I will have a little bit of wrist set, so I'm not going to get huge amounts of lag where I really come in like this, but I will have a little bit of wrist set, and I'm just letting the momentum of the club release it.
I want to feel like in these bottom three fingers in my left hand, that's where I want to feel the pressure as I'm coming through here's the club moving through contact and everything just keeps on going, I don't want to slow down.
A key for this is to make sure that you get the right distance in your backswing.
If you're a member of the website, you're an All Access Member, and you've watched our distance wedge series where we talk about the clock swings, you want to go ahead and adjust the distance of the shot by stopping at either 7:30, 9:00, or 10:30 in the backswing, and then making a good full finish with all those.
That's going to allow you to be very consistent with your distances. Be sure to check those videos out. As you're working on this though, my tempo is really key here too. I don't want to feel like I'm rushing, or I'm really trying to get a lot of power into this.
I want to feel like my hands are nice and soft as I'm going back and through. Again, I should get a little bit of forward shaft lean, so these balls come out fairly low with some good spin on them.
We can see that one was fairly low, had some good spin. As it hit the ground, it wanted to check up a little bit. I'll just practice a few more until I get that distance correct.
Now lastly here, I want to make sure that I hold my finish. It sounds a little bit silly on a little wedge shot that I'm going to hold my finish. But I want to go ahead and pause in my finish to focus on where that ball's going to land, and I get a really good feel for my distance control as I'm doing this.
So let's say I go ahead and hit one, that one actually landed on the towel, but let's imagine I'm holding my finish and that landed a few yards short.
Now I'm able to give my body the feedback on what that felt like, when I'm a few yards short rather than if I hit the shot and immediately just put the club back down, I've kind of loss that feel that I just had on the swing.
Once I've done that, I immediately get the feedback and I would write down in my book how many shots it took me to land on that one and move on to the next one.
Here let me recap, bottom three fingers that's where you're going to feel most of the pressure in this swing. I will get a little bit of wrist set as I'm coming back, but it's not going to be much, we're basically just letting the club do the work as we go back.
As I come through everything's moving through together. A big key for this is making sure that my body is stacked nice and up and down. I don't want to get a lot of tilt away like we would in a full swing shot, the big difference here is your spine's tilted away in the full swing.
In your short game shot you're going to have your feet a little closer together, your spine's going to be up and down. That's going to help me to move everything through together as one unit. My hands are going to be nice and soft, I don't feel like I'm going to put any pressure in there with my hands.
Then I'm really going to just keep a nice good tempo to be able to judge that distance. Let's go ahead and try one at the second flag.
There you go guys, stick those close. You're going to be able to work on these day in and day out. You'll make more birdies.