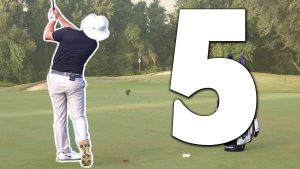 Why You Need This: Today, you'll get the "Top 5 Tips for the 80 Yard Golf Shot"
If you've ever turned a great scoring opportunity...
...into a total disaster of a hole (because you messed up that 80 yard shot into the green)...
...well, we've all been there before...
...but today's video has 5 surprising tips that will have you hitting those shots close to the hole, including an unusual tip that will keep you from trying to "lift" the ball (see this at the 5:30 mark of the video).
Now you can stand over those "less than full" shots with confidence!
Golf Pros Featured:
Instructors Featured: Clay Ballard
Video Duration: 8:12
Watch This Video Now!
Normally, this video in our step-by-step, course-based training is only available to our All Access Members...
But I'll let you watch this ONE video today only... because I can already tell I'm going to like you !

Video Transcription:
Clay Ballard: Now how often do you find yourself about 80 yards out. You hit that wedge and either you skull it over the green, or the ball just rolls straight up the club face like that one and it comes up well short of the green?
All right, the first key here is that we have to get the hands in front. Now when I lean my hands in front what that's doing is it's taking loft off the club and it's making it really easy for me to make consistent contact with this golf ball.
So if you can imagine, if the shaft is straight up and down, it adds loft to this face. It doesn't matter which wedge you're hitting.
What ends up happening, is as you get to a certain amount of loft, especially with the wedges, if you add a little bit too much, now instead of that ball grabbing the face and taking off and it being able to catch it and make spin, it slides across the face and it floats up into the air, it doesn't go anywhere.
Regardless of the wedge, your hands have to be leaning forward a lot. The pros are actually leaning their wedges forward almost 15° of shaft lean, so that wedge is well in front.
I'm going to feel like my weight is on my left side, I'm going to feel like my hands are in front of my left foot when I'm making contact here, and that's going to allow me to really hit this ball nice and clean.
Let's go ahead and give it a whirl. There we go. Hit that one nice and solid, just an easy shot.
Even though I didn't really hit that one great as far as I came down into the ground a little bit more than I would have liked, it came out really clean.
Now the key with this, if I want to get the hands forward, I can't push the hands across the body. You'll notice here how my hands get it front of my belt buckle, and that's really never going to work.
As you start to swing with some speed, because your body's opening up from the top, your arms will never be able to get very much in front of the center of your belt buckle here.
So, how do we get the club in front if we don't push our hands forward? Well, we actually rotate in to our arms. Let me show what I mean by this.
I'm going to set up with my left hand on the club, and just a little bit of forward shaft lean, whatever feels comfortable to me here.
Then what I'm going to do, is I'm going to turn my shirt buttons into my left arm. So I'm feeling like I'm turning my chest into that arm. I'm turning my hips into that arm, and I'm letting my right foot come slightly off the turf when I do that.
Now that's going to push my hands even farther forward, and that's going to get me into that position you're seeing the pros get in.
The hips are open, the body's rotated through, the left arm is connected to the chest, and now you're in this great position of impact.
So I'm going to feel that, and then I want to go to my normal set up. Then I'm going to try to recreate that same impact position, that same feeling, through impact.
There you go, and you can see that one is really nice and clean. I feel like I'm barely just swinging, it's easily getting there, and the compression is good. It's not sliding up the face, it's not skulling across the green.
Now the next one is one of the best ones, because when you stand up and flip like most players are doing. So I lose my posture, I flip at it. My hips are going to be pretty square at impact.
So I'm used to swinging or you're used to swinging square to the hips. So if the hips are going forward, and you're swinging forward, these have a square relationship to each other.
Now if we're doing this correctly, if you were to swing square to the hips and now I'm going to rotate into that shot like I talked about, all of a sudden my hips are going over here, I would be swinging this direction if I kept everything the same.
I want to be swinging toward the target. So almost imagine like I'm opening up and tossing this golf ball toward the target there.
Now in relationship to my hips, now I'm swinging this way. I'm swinging 45° out to the right. So I really feel like in relationship to my body, I'm swinging way over here. It's that opening into the shot that gets that to square up.
So you're going to feel like, if you're struggling with these wedge shots, and you're struggling compressing it, you're going to feel like you're swinging that way.
You've got to really trust me on this, but I'm telling you, it will change your game. You feel like you're swinging that way, and then as you rotate into it, that's what's going to allow it to square up.
Yeah, really good and tight on that one. I actually caught that one too good, that's going to have some nice spin on it. Just a little long and left, you can see it started to spin back down the hill.
I don't know if you can see that on the camera, but it probably spun back 10 feet with just a really nice, easy swing.
Another common mistake is trying to kind of lift the ball up in the air. When I do that, when I have a feeling that I want to hit my wedges high like you hear a lot of players doing, then again, that's going to get into that flip adding loft. The ball rolls up the face, it's really not very good.
A great visual for this is imagining driving a nail. I have this giant nail that I put through this golf ball. What I imagine here as I'm hitting, is I just imagine that this nail is coming just very slightly down into the ground.
That's even a little bit exaggerated there. We could go a little bit more level than that, more like this. I'm just going to take this club face and I'm going to drive that nail through that golf ball.
So obviously I could line it up a little bit more inside out if I want to go more inside out, and I'm just focusing on driving that nail through the ball.
Two good things are going to happen with this. Number one, when I imagine doing that, I automatically get my hands in front.
You would not feel very good hitting this nail into this golf ball by flipping it. You would feel like you naturally get your hands in front. A great way to even feel better on that, turn the club sideways.
That gets the weight of the toe in front of the handle, and you'll naturally start to put your hands forward even more to get in a more comfortable position.
So when I'm driving this nail, look how much forward my hands are. Look how my body automatically starts to rotate up. Just having that visual gets you into a lot of the positions that you want to get into.
Now I'm just going to remove the nail, have the same feeling with the golf ball there, and I'm going to feel like I swing nice and smooth, rotate into the shot, and just drive that nail.
I'm coming down, and down and through, really extending through that shot. I'm not standing up and flipping at all.
There we go, hit that one really, really solid too. That's probably going to have a little more spin off that hill, also. Just barely stopped, wanted to come back a little bit.
Now the next question you may have is how do I control my distances? You see there, that even though I was a little left and right on a couple of those, my distances were all about hole high, probably only got about 12 feet on my longest putt.
Most people are going to tell you, that you need to be the right distance on your leave. I need to have a full swing in. Well, honestly, that's not a full swing. I made little three-quarter swings there.
This is my sand wedge, which I usually hit about 115 to 120 yards. Here we're at 80 yards, and I was able to control my distances like that.
Now I have a special method that I use to control my distances. Some people may call it the clock swing, but I really don't like to say that because I have a different twist on it.
I have a special rhythm that I use when I'm going these to make sure that as I'm going back and coming through, I can get that to land at the same spot, or at least very, very close to that every time.
Now that's just one of the things that I'm going to teach you on top of what we talked about here today in the Short Game section of the Top Speed Golf System.
So if you're a member of Top Speed Golf, all you need to do is go ahead and click on the Instruction tab. Go to the TSG System, go to the Short Game section.
We're going to talk about how to really just build a bullet-proof short game to where you feel like no matter what situation you get into, you're confident. That's really what you want to feel like.
Anywhere inside 100 yards, you want to have the feeling that you can't wait to get up there and hit the shot 'cause you know it's going to be clean. You know it's going to be good.
You're not going to be throwing all those strokes away. No longer are you going to be skulling them over the green, or chunking them, or floating them up in the air. That's really frustrating when you're having a great round, just blowing it around the greens.
So I'm going to teach you all that and more in that Short Game section. So don't stop here with this today. This is just the tip of the iceberg.
We're going to make it to where it's so much fun on these short game shots, and I can't wait to get started with you. I'll see you in the Short Game section of the Top Speed Golf System.