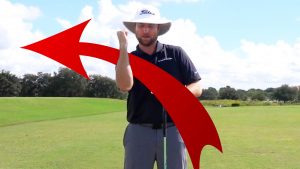 Why You Need This: Today, you'll discover "This Simple Drill Will Quickly Get You Shallowing the Golf Club | Reverse Arm Wrestle Drill"
I know how difficult it can be to try and make a change to your golf swing…
...especially if you're not quite sure what the new move is supposed to "feel" like.
Heck, you might not even know if you're doing what you're actually trying to do!
If you've ever tried to shallow the club to begin your downswing…
...this may sound all too familiar.
But today, that's going to change…
...as you'll get the perfect drill to finally FEEL what shallowing is…
...and if you've ever LOST an arm wrestling match…
...then may already know this feeling!
If you want to see what I'm talking about...
Golf Pros Featured:
Instructors Featured: Clay Ballard
Video Duration: 7:27
Watch This Video Now!
Normally, this video in our step-by-step, course-based training is only available to our All Access Members...
But I'll let you watch this ONE video today only... because I can already tell I'm going to like you !

Video Transcription:
Clay Ballard: Now we all know that we need to shallow this club out like the pros are doing. Why do I see so many players have trouble with this?
Well, it comes down to two very important motions. Number one, is with your right forearm. If you use this the correct way which I'm going to show in a second, it will make it way easier to get that club shallow.
Number two, I'm actually going to take this head cover and talk about how it's going to smooth out your tempo. If you're quick from the top, it's not going to work. Also, it's going to help you to feel shallowing once and for all.
Let's start with the forearm. If you're arm wrestling. Imagine you're standing straight up and down here, if I'm going to arm wrestle somebody and I'm going to make my arm internally rotate like this to win the arm wrestle match.
What I'm doing here is I'm taking from my shoulder and I'm rotating inward with my forearm. That's kind of slamming their hand down like this. Now that would be an over the top in the golf swing.
If I go to the top of the swing and now I arm wrestle, it's going over the top. That's a powerful move. It feels very strong when you arm wrestle or slam that club down, and that's why, one of the reasons why, a lot of players start over the top.
We actually want to do the opposite of that when we shallow out. We're going to be taking this arm wrestling move and doing a reverse arm wrestle, which is going to tuck the elbow in and externally rotate the forearm.
What that's going to do when you do that motion now, if you rotate that in, all of a sudden my elbow's tucked, my club is shallowing out like that, and that really makes it easy to make this happen.
Now, I want to do something with the head cover to really get the feeling of this. I want to feel the momentum of the club head going from outside my hands to inside my hands.
This is exactly how you should feel in transition in the golf swing. So by putting a head cover on your club, it gives it a little bit extra weight.
Now we're going to take it back to here, just half way back. From here, I'm going to exaggerate and actually get a little wrist bend so that I'm basically putting this club way outside my hands.
Then I'm going to practice that reverse arm wrestle move four or five times. So I'm going to let my arm rotate this way, and it's going to shallow that club out.
As I'm doing that, I'm going to feel that club from looking from face on, move from here to there, going behind my body.
Now the last piece of this as I'm doing these little reverse arm wrestle moves, my body needs to be opening up or starting the downswing as that's happening.
This isn't a backswing move. I'm not going back to here and then coming down, this is a downswing move. So I'm actually letting my body open up as that's happening.
So you can see my hips and my body are opening as I'm shallowing this club out. That's what all the great pros are doing.
If you see somebody who does this way extreme, this swing almost looks exactly like that, because he's doing tons and tons of shallowing, that would be a Matt Wolff.
He's starting with that club out there and then shallowing it in the transition. Now, we're never going to do anything like that in the full swing, but that's the sensation that you want to have.
So as you go to the top of the swing, I'm getting a little reverse arm wrestle as my body opens up, that shallows the club out and drops it to the inside.
Now, if I want to make this even better and make sure that my transition isn't killing all this for me, I'm not getting too quick to make this happen, I like to take my driver head cover and actually put it on my hybrid.
This actually does a really cool thing for this drill. So now this head cover's on there really loose. There's two head covers that gives it a little extra weight. I can feel this even better.
If I get quick from the top, that head cover's going to fly right off very easily because it just slides very easily.
Now these Ping head covers work well for that. If you have one with the kind of elastic at the bottom it's not going to fly off, but you'll definitely feel what I'm talking about here.
So as I go to the top of the swing, I have to be very smooth. I'm going to do that same thing there, hands feeling like the club head is a little bit out. Then as I shallow, I'm going to feel two things.
If I'm looking at it from the down the line view, I'm going to feel like this club goes from steeper angle to shallowing angle as I start my downswing.
Number two, if I'm looking from the face on angle, I'm going to feel like it's dropping behind my body, almost like this head cover would be falling to the ground back here.
Now if you're too quick from the top, that arm wrestle move is always going to take over. If I do that and go real quick, you'll see that head cover flies off very early in the downswing.
What I want you to do is I want you to feel the weight of that head cover go behind your body and then I want to be really smooth to open it up and I don't want that cover to fly off until the ball.
So do a few of those practice swings, get the rhythm of that, that's going to not only allow you to get that reverse arm wrestle move, but it's also going to allow you to be smooth enough to make that happen.
If you're quick from the top, it's going to cast, it's going to throw the arm out. You're really never going to be able to make that happen.
So now that I felt that, I'm going to feel like I make a normal swing, that club's naturally going to want to shallow out from the inside. Let's go ahead and give it a whirl. There we go, hit that one good. Nice little draw, pretty hard hit.
Now there's one more piece to making this happen. I can shallow this club out, but if you do it the way most people do it, and the way that I see people do it, you're going to get blocks way out to the right.
Here's what I mean by this. Most people don't realize this, and I didn't realize this for years, but if I start down a little steep, my club face is already closing a little bit.
So if I steepen this club up, look how my club face is pointing out to the right already. Now if I keep this exact same position in the downswing but I shallow this club out, look how it's still pointing up to the sky, it's actually very open from here.
If I just rotated on down to contact, shallowing from the inside, that club face would be a mile to the right.
So what I see players do all the time, is they shallow it out but they don't have the second piece, they don't square up the face. They make a shallower swing, and they get a bad result out to the right.
Now what you have to learn to do is to square up the face the proper way. What the pros are doing, is they're shallowing it out but then they're squaring up this face, closing it down early.
That's what gets this left wrist into a nice bowed position. That's what gets this right wrist into an angled back position.
When you get that position right, you're not only going to be shallowing from the inside, but you're going to have great lag. You're going to have forward shaft lean.
If you're hitting those irons, your hands are going to be in front. That's these wrist angles that allow you to get that shaft lean.
That's this wrist angle that allows you to release the club out in front rather than kind of casting and flipping at the golf ball.
So we've got piece number one here. That's getting this club shallower. Some great drills to get you started with that.
If you're a member of the Top Speed Golf website, you're going to want to go to the instruction tab, go to the Top Speed Golf System, then go to The Move section. In there, I give you the second piece.
I talk about also some great drills to really hone in this shallowing out, but then I go over a specific video, The Tennis Racket Drill, and a couple other drills that get you to square this face up early so now you can have that lag, forward shaft lean, release in front, squaring up that face to get that nice, tight draw.
That's where you bring the whole thing home. Once you do these drills that we talked about here today, those are going to help you to shallow it out.
Then bring it the rest of the way home by going over to The Move section, following through those drills, there's only a handful of drills there, and it's going to give you the full picture.
You're going to be hitting those awesome shallow draws from the inside. I'll see you in The Move.