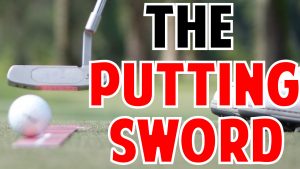 Why You Need This: In this video, you'll discover the Sword Putting drill...
And lower your scores!
You'll learn how to make more putts in the "scoring zone"...
...which refers to putts within 12 feet (specifically between 8 and 10 feet).
This is the range that you can really help your round...
Because if you're missing most of your 10 foot putts, then you're just not going to score well.
Note that I don't think you should spend much time practicing 2 to 3 foot putts.
Even if you have horrible technique, you'll make most of those.
Around 10 feet is a more likely distance for birdie opportunities.
As you'll see in the video, I use a training aid called "The Sword" from EyeLine Golf.
It's a very simple training aid that takes up hardly any space in your bag.
Here's what is great about "The Sword"...
It tells you right away if your putter face is lined up correctly or not.
Also, the aid will help your putting alignment.
Now the bad news...
Well, it's not really bad news, but it can be challenging to keep the ball on the long strip.
But hey...
That's a challenge that'll make you a better putter!
Watch this video now to learn how to make more putts...
And lower your scores!
Golf Pros Featured:
Instructors Featured: Clay Ballard
Video Duration: 4:36
Watch This Video Now!
Normally, this video in our step-by-step, course-based training is only available to our All Access Members...
But I'll let you watch this ONE video today only... because I can already tell I'm going to like you !

Video Transcription:
Hey guys, I've got a great drill for you today to help you make more putts. We're going to talk about the scoring zone here, and what I call the scoring zone is anything from 12 feet and in, specifically around this 8 to 10-foot range.
This the range where you're close enough to where if you're putting really well, you can make a lot of putts. If you're putting poorly, you're going to miss just about everything.
If you get to where you're putting well from this zone, you're going to be able to really capitalize. A lot of people like to practice from 2- and 3-foot putts. I'm not a big fan of that, because even if you're putting terribly, you're going to make most of your 3foot putts.
This is the range that we can really, really make a lot of birdies from. Tough to get inside 8-foot consistently for birdie, from the fairway and that kind of thing.
Especially when we're on par 5s, we're going up on the green, this would be our birdie putt after we chip up pretty close on most of par 5s.
Here what we're doing, is we're using a training aid from EyeLine Golf, it's called The Sword.
Very simple training aid, I like this because you can fit this in your bag, usually the long pocket that's on the side of your bag can hold this. Or if you just want to put it down where your clubs are, you can take it out with you to practice, very easy to use.
Now what this does, is I want to find a dead straight putt. I don't want to have the putt breaks, I'm going to find one preferably that's straight uphill, and I'm going to get it about 8 feet away, we can go 10 feet away as it's marked on here.
We're going to line it up, roll a few, and make sure that there's no break at all in this putt.
Now the cool thing about this, is it's going to tell you right away, specifically which way your face is lined up. So when we make putts, the direction the ball starts is going to be mostly toward wherever our face is pointing.
I could be swinging, let's imagine me swinging straight back and through, but if my face is closed – let's go ahead and try one out with my face closed – that ball's going to go to the left. That's extreme, I'm exaggerated there a little bit.
But the direction my putter was swinging is pretty straight, you'll see that my face was open, the one before the face was closed, and it's falling off of the Sword.
That seems like it would be pretty easy to putt down this Sword, but where it's a hard plastic, it is extremely difficult to get it to putt on this. We have to be very, very precise.
I'm going to set up this 8-footer here, and I'm really going to concentrate. There's a line that's on the back of this device, that shows you if your putter face is dead square.
As I set up to the ball, I'm going to go ahead and get my feet, my hips, my shoulders, everything lined up square. Then I'm going to set up the face to make sure it's square, and then I'm going to set it right up with the putter head.
I'm going to try to make a few of these. I'm not even going to pretend like I'm going to make every single one of them, because it's very difficult to keep it on this plastic Sword.
That's a great drill to work on. Again here, I'm looking at my alignment of my face, marking it with the line that's on the Sword, I'm getting my stance, my hips, my shoulders, everything in good alignment with that.
Then I'm making sure that my face, I'm looking at the feedback. If I start to miss a few where the ball falls off to the left, then I know my face is too closed, I'm going to feel like it's a little bit more open.
If I hit a few where my ball falls off to the right, I'm going to have the face closed a little bit more. I may have this lined up just slightly too far to the right, you can see it went down the Sword that time and barely missed.
But let's try one more here, and we'll see if I can get it to stay on the Sword. There we go, so closed the face down a little bit. Always tough to do. This is a great training aid, because it really is a lot tougher than it first appears.
Now on the back side, another cool thing I like about this, is it gives us the reality of what we should be shooting for. If we flip this over, you can see from 3 feet that PGA Tour players are going to make most of their putts.
From 6 feet where it has here, PGA Tour player makes – 5 feet, excuse me – PGA Tour player only makes 75 percent.
If we can flip this over and we can get this about 5 feet away, a little bit closer, and we can make about 75 percent of these, we're going to know we're right on par with what the Tour guys are making.
If you go out from 8 feet, where we were before, just like it has it marked on the back of this, only 50 percent from PGA Tour.
So if you can make more than 50 percent of your 8-footers, you can get them to roll down this Sword, you're going to be doing than your average PGA Tour player.
Work on this, anywhere from 12 feet all the way up to 5 feet is kind of the range that I like to go from. Not a big fan of the 3-footers, because you're going to make those even if your technique isn't quite right.
Try out The Sword, I really like it. I keep it in my bag now and practice with it on a pretty regular basis. I think you guys will enjoy it too.