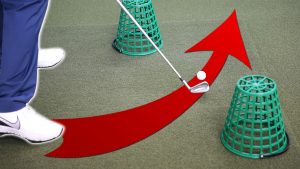 Why You Need This: Today, you'll discover "The Golf Shot You Need to Master to Lower Your Scores"
In today's lesson…
…you'll see why the "push draw" is the easiest way to play consistent golf…
…and I'll show you how you can start playing this awesome shot in 3 easy steps.
Try it out this week and see if it helps your game.
To Lower Scores,
Clay Ballard
Golf Pros Featured:
Instructors Featured: Clay Ballard
Video Duration: 11:57
Watch This Video Now!
Normally, this video in our step-by-step, course-based training is only available to our All Access Members...
But I'll let you watch this ONE video today only... because I can already tell I'm going to like you !

Video Transcription:
All right. If there's one shot that I guarantee you, it's the easiest way to play well. That's what I call the push draw. On a push draw. The ball starts to the right of the target line. So if you imagine on the screen here, that straight line going ahead, that's my target would be the middle of the fairway, the middle of the green, wherever you're aiming, that ball is going to start to the right of that every single time and every single time that ball is going to draw back.
Well, there's three really easy steps. If we get these three steps right then you can hit that push draw. And again, like I said, it's the easiest way to really shoot low scores and hit a lot of good, clean, consistent shots. You can hit a fade. I like to say a lot of times, but it's a little bit more advanced.
This is the easiest way to play well. So let's go ahead and hit a few shots here. And let's talk about the steps. Step number one in the piece that everybody gets wrong is they don't get the face releasing through contact enough. You see, when I set up to this ball, if I just pull my hands forward, naturally, what happens is the Clubface opens up.
So as I drag my hands toward the target, look how the face is now going up to the right. Now, when I try to draw the ball, a lot of times people are trying to overcome that. The face is open, open, open, and they're trying to save it at the last second. What we need to do is we need to make it absolutely second nature to where this club is releasing all the way through contact So if I grab a little Clubface pointer here, stick it on my club, showing where the face is pointing, I want that to be closing down or releasing the entire time through contact.
I never want to have that face opening up like this or kind of holding the face off. I got to turn it down. So that's what I'm going to start with. And that's the biggest piece to making this happen. Now there's two steps to making the face close. Number one, we got to exaggerate the heck out of it by using specific wrist movements.
And then number two, we make sure that we basically get the release the right way that we want to have it. So let's go on number one here. I want to go ahead release the absolute heck out of this thing. So what I'm going to feel like now is I'm going to release this club to where when I come through contact and my club is parallel with the ground in the fall through.
I want that face pointing straight down to the ground. And in order to do that, this would be straight up and down. What most people would think of as kind of a square release is actually a little bit more close and then a square release. But I want that face to be pointing like this. So I don't want it to be here.
I want to be turned all the way on over until it's down to the ground. My forearms are touching the logo of my glove is pointing toward the ground. If I was to open my left hand, the palm would be to the sky. So I'm just kind of throwing my hand like this. Like if I was going to throw a Frisbee that's how I'd make it feel.
Same thing with the right hand. I'm going to roll that hand over into the palm of the hand is now facing the ground, and that's going to look like that. So my forearms are touching right palm to the ground, left palm up toward the sky. If I do that, that's going to close that face so much, it's going to shoot in the left side of the screen here.
So I'm actually trying to hit this pole. You'll see over here this metal pole. I'm hoping that I hit my golf ball into that. It's going to be that exaggerated. So let's see if the machine will pick it up. Sometimes when you hit these crazy shots, it's not expecting you to hit 145 degrees left and always pick them up.
But I'll do my best here There we go. So really rolled it over. And you'll see in my follow through. Palms down to palm up big time hook. If we're looking at the screen here, we're seeing that my club path. I didn't swing to the left to make that ball go left. I actually swung 3.3 degrees right. I swung to the right.
But it was me releasing that face so much that got it to go to the left there. My face was 11 degrees close to my path there basically what it's saying is if this is square straight ahead toward the target, my face is 11 degrees closed. I want you to go even more than that. Hit five, ten, fifteen, however many balls it takes you if you can do it right away.
Great. We can move on to the next thing. But I'll be honest, you've probably tried something similar to that, and that's not really going to cure it forever. If you struggle for this, the next thing I'm going to do, which is going to make it harder, is what's going to cure it forever. Now, I want you to go ahead and set up to the camera here, face straight up and down and we're going to make it tough.
So last for your lifetime. I'm going to open the face and I'll take my normal grip, and then I'm going to open the face about 15, 20 degrees way open, and I'm going to set up to this golf ball. Now, if I hit that one and swung through there with a normal swing, that's going to shoot into the right side of the screen, it's going to be absolutely terrible.
So I have to really close this down to get that ball to draw. I mean, I got to work triple overtime to make that happen. What you'll find is, again, just try to make it match up to this point right here. You'll start rolling the club from the inside, squaring it up from the inside earlier. So that face starts to close down earlier.
It continues to close down to the shot and closes down even more after the shot. So I'm going to set up with the face open and I'm going to do whatever I have to do to get that thing to roll on over there. Let's give that a shot There we go. Another big hook, another one that curved from right to left quite a bit.
Again, I swung to the right, six degrees to the right, but that one, the face was closed 16 degrees. So I had to roll my hands like crazy to get that club to close down. Now, that's the draw part, as long as that face is drawing. Now, we did super exaggeration there. As long as that face is drawing, the face is closing, that ball is going to turn over from right to left.
Now, let's get the path part correct and let's tone this down a little bit. This is an awesome drill. You don't have to use range buckets when you're doing this, but I found they work really well and I like them because they're just laying around at the driving range when you go to practice. So what I'm doing here is I'm going to pretend this is my target line.
I'm going to set this basket about a foot behind the golf ball and right on that golf balls line. So the outside of the golf ball right here would be in line with the basket there. So this basket, same thing. There's the target line. And I'm going to put this basket about six inches inside of this golf ball and about a foot in front of it also.
So that's where I'm going to set up these two baskets. Now, for once you get those set up, especially if you're getting off, man, trying to hit it from the same spot every single time. So what I've done here is if I come over the top, I'm going to smack into this basket. You can start them a little bit farther out so you don't accidentally hit one of the baskets and break your club or break or get hurt or something like that.
So start out slow little chip shots while you're doing this, too. And I love this one because now it gets me in a position to where there's this giant path that I can swing my club. That's the push part of this push draw. And it's going to make it really easy here. Now I'm going to go ahead and I'm going to get my shoulders a little bit closed and I'm going to get my upper body a little tilted back.
So again, what I'm doing is I'm lining my body in a way to where I can swing down this path that it sees this make it happen. Now, again, this is going to be a little exaggerated. I'm ideally going to probably swing six or eight degrees inside out to overdo it, but I really want to get that ball starting right every single time.
And I want to get that that ball turning over from right to left. So now here, I'm not going to roll my arms quite as much. I'll tone it down a little bit to where the face is still releasing. It's not toe up. It's turning on over, but it's not all the way down to the ground. And I have that feeling as I swing inside out with this.
So let's go and try one out. And this should be getting into that nice little push draw here.
There we go. Even though I didn't hit that on the best start to the right of the target line, Drew back on the target line, very, very repeatable. So even if you don't hit a great shot, it's going to be just a repeatable pattern. Now, there's two last little pieces that I think are really important that I liked about this drill.
A lot a lot of times what players will do is hang back. So we'll get it from the inside, but they'll be grounding out somewhere here. And what ends up happening, they're trying to come from the inside, but then they'll release the club and it'll kind of smack into this inside basket here. What I want you to feel like you're doing is getting a little weight shift to the left as you're doing that.
So my upper body, this is a real key. All the great pros are keeping the body angle back as they shift to the left. So as you start to get a little bit of a weight shift to your left foot, as you start the downswing there, I'm starting to get it from the inside in the slot here. I'm getting my shift.
I don't want to get my upper body on top of it. I want to keep imagine my nose pointing at the back of the golf ball, the inside of the golf ball as I shift to the left. That makes it really easy to get this path inside out. Here you go. Another one that's going to start to the right.
It's going to draw back every single time. Finally here, I love one thing that I see players do all the time is fold up their arms early. So they start to do this type of motion. And when you fold them up again, it wants to hit this basket a little bit easier here. I really feel like I'm going to shift to the left and I'm going to extend my arms long. Margin
Ben Hogan, Tiger Woods, Jason Day, Adam Scott, really long extension like you're going to get that ball a swoosh on the face and just carry all the way through there. That's going to be a great feeling to have. And these two little baskets can be great for that. Too. There are lots of extension on that one. So I'm hitting three or four or five shots in a row.
Every one of them starts the right. Every one of them draws back and then from there, if we really want to get fantastic with this, we're going to tone it down a little bit, start a little closer to the target line. Don't swing quite as far to the right. Maybe you can get these buckets a little bit more squared up to where you give yourself a bit more room.
You swing a little bit more straight. The ball, the club doesn't release quite as much and you start to tighten that out, getting a really nice tight draw. As that's happening now, there's something a little easier than this. This is really going to get to exaggerate rated. But there's two problems that I find players have when they're trying to do this.
Even if they try to do everything we did here today, they still get that club come in a little bit over the top. It's so ingrained. And then that face, it's too open halfway in the downswing. And we're trying like heck to release that club and get it turned over like we talked about here. But it's going from a really open position and it's happening really late.
So when that's happening and that's what I see with most players, almost every player I see is too steep and has the face to open starting the downswing. When players are doing that, it makes it very difficult to do what we did here today. You hit some great ones, you go out to the range, you hit a few and be like, Man, that was it.
Honestly, to do that every time. And then you hit a couple of bad ones. Well, if you want to break that habit and get to where this is very natural, you've got to follow a system to make this happen. And this is exactly what I teach and what I call the move. Now, in the move course, all you need to do is go and click the instruction tab top speed golf system move, just a handful of videos.
What I'm going to do there is I'm going to get it shelled it out early. I'm going to show you how to finally get this club flatter so that now it's easy to swing out to the right. It feels like the only thing you could do is swing out to the right. There were talk about how the pros square up their wrist early so they can release this club and get that nice draw and not even feel like they have to work too much to do that.
So the video we did here today is fantastic and to get you started. But if you really want to take it to where it's second nature, the move course, that's going to knock it out for you forever. So once you finish this video, I challenge you to just do one video from the move this week. I actually do it right now today.
Watch one video from the move and I guarantee you're going to be well on your way. It's going to be a real game changer because if you can get that push draw pattern down that I've taught you here, also teach in the move, man. Golf just a whole heck of a lot easier and a whole heck of a lot more fun.
So head on over the move now. I'll see you there.