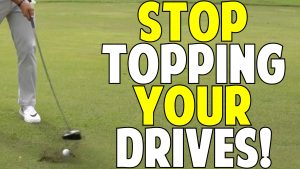 Why You Need This: In this video, you'll discover how to stop topping your drives.
All you hear are the sounds of your golf buddies snickering and busting out laughing...
It takes you a few moments to realize what just happened.
Your first instinct after your tee shot was to look deep in the fairway, but there's no need. Your ball dug deep in the grass about a foot ahead of you and barely rolled 30 yards.
What happened?
You just topped your drive. You just committed one of the most embarrassing shots in golf.
Relax a bit... It happens. But let's make sure it doesn't happen again :)
In this video, you'll learn how to stop topping your drives.
Watch now to avoid the embarrassment and hit your drives long and straight!
Golf Pros Featured:
Instructors Featured: Robin Rosado
Video Duration: 4:19
Watch This Video Now!
Normally, this video in our step-by-step, course-based training is only available to our All Access Members...
But I'll let you watch this ONE video today only... because I can already tell I'm going to like you !