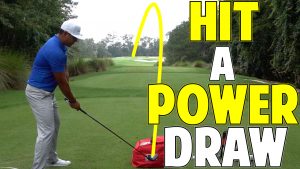 Why You Need This: In this video, you'll discover the secrets to hitting a power draw.
It's a great feeling to hit a nice power draw off the tee.
Not only does it look good, it's a clutch shot to hit when there's trouble on the right side of the fairway.
But how do you hit a power draw?
Find out in this video.
You'll learn...
How much spine angle to shoot for,
What club path is optimal for power draws, and
What you should feel with your club face through contact.
You'll also get a quick drill to put it all together.
Watch now to hit power draws off the tee!
Golf Pros Featured:
Instructors Featured: Robin Rosado
Video Duration: 3:45
Watch This Video Now!
Normally, this video in our step-by-step, course-based training is only available to our All Access Members...
But I'll let you watch this ONE video today only... because I can already tell I'm going to like you !