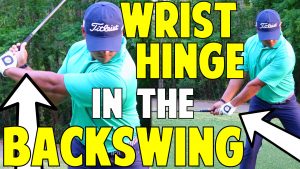 Why You Need This: In this video, you'll learn the proper wrist hinge in the backswing for building and releasing tons of speed in your swing.
Top Speed Golf Director of Instruction in Orlando, Robin Rosado, joins me in the video to demonstrate the correct moves.
Robin can crush the ball.
His first swing in the video reaches a carry distance of 295 yards and a total distance of 344 yards!
Now that's some crazy distance.
In the video, you'll get a close look at his wrist hinge to learn more about how to get more speed in your swing.
The first key is to keep your arms and wrists nice and soft in the takeaway.
There shouldn't be much wrist hinge in the takeaway, and you'll want to create a wide path.
From there, increase your wrist hinge all the way into the downswing.
In the downswing, the lag angle is maxed out around when the left arm is parallel with the ground.
Next in the video, you'll see how to fully release the club.
Past impact, your arms should fully release.
Here are the key points for getting proper wrist hinge in the backswing...
Relaxed arms and wrists in the takeaway
Lag is still increasing as you start the downswing
Wrist is nice and flat as you start the downswing
Whip the club through impact into a full release
Watch now to build power in your swing and release all that power with tons of speed!
Golf Pros Featured:
Instructors Featured: Clay Ballard Robin Rosado
Video Duration: 2:34
Watch This Video Now!
Normally, this video in our step-by-step, course-based training is only available to our All Access Members...
But I'll let you watch this ONE video today only... because I can already tell I'm going to like you !

Video Transcription:
Nice ball, absolutely hammered that one. So we're going to talk about how to get the proper wrist hinge so you can get a lot of speed and get that nice, fast speed, that whip coming through contact.
Robin hit a great ball there. So his swing speed was 110, 1.51 smash, that means it was absolutely just teed off on, and 344 total distance. So he carried it 295.9, and then it took off and rolled, nice slow spin.
A lot of that has to do with what we're doing with our wrist hinge, and how we're hitting those starts. Let's go ahead and start out, go ahead and tee another one up there, Robin, and we'll kind of go through how we're going to use wrist hinge throughout the entire swing.
One of the keys is, as you're doing your takeaway, a lot of times people just want to pick the club up with their hands and arms. I want to keep my hands and arms nice and soft, and if you go ahead and finish your takeaway there.
Just go about halfway back here. I want to keep this club nice and wide, I don't want to get a lot of wrist hinge. You notice that both elbows are pretty straight.
Then from there, I'm going to feel like I'm increasing my lag all the way in to the downswing and then I'm stopping about halfway down and my club, or my left arm is parallel with the ground.
He's got a nice, flat wrist here, and this club is lagging behind, just like we talk about in The Lag section of our Top Speed Golf System.
Now from here, he's got this angle maxed out, and he's going to let that thing go. So if we go out to the straight-line release, now we've let all these angles go.
If we stop right at the straight-line release there, we'll see that all the angles between the forearm and the club are all gone, and that's getting that lightning fast kind of whip coming through there.
The key is, as you're starting your downswing, we're actually increasing that lag there. This left wrist is staying nice and flat, I don't want to get that really cupped as I'm coming through. Then I'm letting everything fire all the way through the shot.
So let's go ahead and try another one out again. Really get that good wrist action as you're starting the downswing, and let one rip.
There we go, he hammered another one. I'm jealous right now. That was killed. So you could see he's not just trying to overpower the ball, he's getting a lot of that flash of sped right there at contact, and again, hit another great one.
110.5 club head speed, 328 total distance, so these balls are knuckling through the wind and just really getting a lot of good roll on them. Yeah, nice job there.
You've got the wrist speed and killed two of them. Work on that wrist hinge, get some more speed in your swing. We'll see you guys soon.