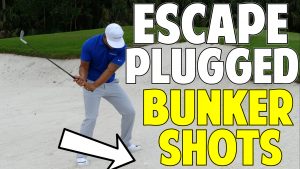 Why You Need This: In this video, you'll learn how to escape from plugged bunker shots.
Yep, the ol' fried egg.
Hitting into the bunker is frustrating, but when you walk up to the bunker and you can barely see it because it's plugged...
Well, that just feels like the final insult.
So what do you do?
Instead of panicking, use the tips in this video to get out of the bunker every time.
This shot is way easier than you'd think once you know what you need to do.
Watch now to discover tips to not just get out of the bunker, but to also salvage par!
Golf Pros Featured:
Instructors Featured: Robin Rosado
Video Duration: 2:37
Watch This Video Now!
Normally, this video in our step-by-step, course-based training is only available to our All Access Members...
But I'll let you watch this ONE video today only... because I can already tell I'm going to like you !