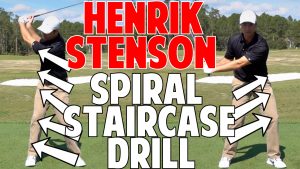 Why You Need This: In this video, you'll learn the Pete Cowan Spiral Staircase drill.
Well known European coach Pete Cowan has helped a huge list of PGA Tour players (Henrik Stenson, Sergio, Louis Oosthuizen, Graeme McDowell, and many more)...
And Pete came up with the "Spiral Staircase" drill that provides a great visualization of swing rotation.
If you're struggling with casting the club early and losing your lag, this drill is for you.
In this video, you'll learn the "Spiral Staircase" drill and how to implement it into your training.
Bottom line: This is a great drill to improve your rotation and timing.
Watch now to climb the staircase!
Golf Pros Featured:
Instructors Featured: Clay Ballard
Video Duration: 5:20
Watch This Video Now!
Normally, this video in our step-by-step, course-based training is only available to our All Access Members...
But I'll let you watch this ONE video today only... because I can already tell I'm going to like you !