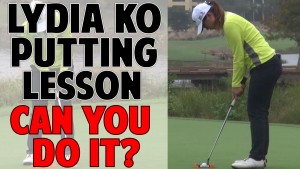 Why You Need This: In this video, you'll discover a great Lydia Ko putting lesson.
Lydia Ko is a fantastic young player and has become a mainstay on the LPGA tour.
By the way, she was born in 1997, so let that sink in...
Dang, I suddenly feel really old!
Hats off to her success and she's not even close to being done yet.
The focus of this video is on Ko's putting.
She's among the best putters in the world and she practices with a very unique putting drill.
In this video, you'll learn Ko's drill, and you'll learn the moves that makes her putting stroke so smooth and consistent.
Watch now to putt like Lydia Ko!
Golf Pros Featured: Lydia Ko
Instructors Featured: Clay Ballard
Video Duration: 6:18
Watch This Video Now!
Normally, this video in our step-by-step, course-based training is only available to our All Access Members...
But I'll let you watch this ONE video today only... because I can already tell I'm going to like you !