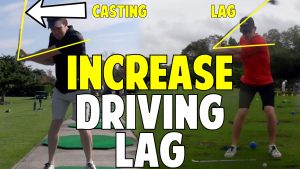 Why You Need This: In this video, you'll learn how to increase your driver lag and add 20 yards just like Josh.
Josh Eaton is Co-founder of Top Speed Golf.
He's usually stuck behind the computer, making sure the website and everything else is working smooth.
But awhile back, we let him out to get some sunshine—he needed it!—and to work on his swing.
Josh had a good swing, but he was still struggling with distance.
He was casting a bit and was trying to muscle the club.
He knew there was a better, more efficient way to get distance.
How's he swinging now?
Well, he recently shot a 35 on 9 holes and is routinely hitting 300 yard drives!
His swing is coming together and he's finally getting the distance he wants.
So in this video, you'll see exactly what we focused on to help Josh crush his drives.
You'll get some great lag tips to work on so you can add distance to your drives too.
Watch now to crush your drives!
Golf Pros Featured:
Instructors Featured: Clay Ballard
Video Duration: 4:02
Watch This Video Now!
Normally, this video in our step-by-step, course-based training is only available to our All Access Members...
But I'll let you watch this ONE video today only... because I can already tell I'm going to like you !

Video Transcription:
Hey guys, awesome to have you here today. In this video, we're going to talk about one of our golfers Josh Eaton. He's a co-founder of Top Speed Golf.
He's the guy behind the scenes that makes it all happen, allows the website to happen, puts in all that hard work while I just go out there and make some golf videos and have fun. So thanks a lot to Josh.
Now you make recognize him from a previous video we did where he was swinging an iron and getting more lag. He said he was still struggling with the driver a little bit. That's a pretty common problem to have.
He's continued to work on his driver, he's really hitting some of the best drives I've ever seen him hit. He's hit tons of 300-yard drives, he's dropped his handicap by several strokes, and he's fresh off a 35 on 9 holes which is one of the lowest rounds I've seen him shoot in a while.
His swing's looking really good. We're going to talk about some of the things that he worked on specifically with his driver to get more lag and start getting some more distance and hitting the ball a lot better.
Let's go ahead and get started.
All right, so let's check out the first video here. This is a before from a few months back.
One of the things that he struggles with and that most players do, is we get this longer club, we really want to hit it, we want to get tons of power, and we start from the top by getting a little bit too much pressure into the shaft.
So we can see that his left forearm looks pretty tight there, his right forearm looks tight, and he's already stating to get this club to kind of cast out away from his body slightly.
That's not the worst in the world, he's got a good swing here. But this could definitely be a little bit better. We can even see in his face, he's putting out some effort there to make this happen.
As we scroll down a little bit farther into the video, and we pause when his left arm or his glove is in front of his right leg and we draw a line on this. If we wanted to do kind of an angle finder, let's get a quick angle and see how much lag he has left at this point in his swing.
We see he's about 43°. So that's going to really cost him some distance there, and as he comes on through we're noticing that the left wrist kind of folds up, the left arm bends, and he's really just trying to muscle the club through a little bit more.
He really continued to work on the driver, we made some good results with this and he's putting some great work on this and done a lot better.
We'll notice in his after swing, right away as soon as he starts down he looks a lot more relaxed. So he's feeling like this club – and this is what we talk about in The Move section – drops back behind his body a little bit more.
He's really soft in the transition, letting that club get a nice, sharp angle. Then as he starts into the downswing, so we can see that lag increasing already, we can see that his forearms are much more relaxed.
So we can see there's a lot sharper angle here between the forearms than what there was in the previous video.
Now as you continue into the downswing, one of the videos that really helped him to kind of break through is the Tennis Racket Drill, and that's video 1.2 in The Move section, where we talk about squaring up these hands.
When this club's roughly parallel with the ground, the left wrist feels like it's flat or a little bit bowed, and that club face is squaring up early, and I've got a really cool drill where I take a tennis racket and show you how to twist that down.
That puts the hands in a position where it's almost impossible to get rid of lag, or to cast. We're going to get tons of lag, and we're going to release that farther out in front.
If we take that same angle finder from here, and we're looking at this, we're going to see that he's probably just shy of 90° wit the golf club, yeah, 75°. Somewhere around in there, 80°, so he's picked up almost 30° more lag with the driver, which is the hardest club to get lag with.
Right at impact, nice, flat left wrist and the swing is looking a lot better. Like I said, I've been playing with him, I've seen him quite a few drives over 300 yards. He's picked up some good distance and it's a lot more fun wen you're hitting it farther.
For those of you that are members of the website, be sure to check out video 1.2 in The Move section, that's going to talk about the Tennis Racket Drill.
How to square that face up early, get that club lagging back behind you, you're going to pick up some great distance, and you're really just going to have a lot more fun while you're playing golf.
So check out that video, and I'll see you guys soon.