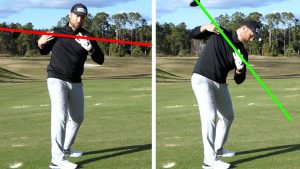 Why You Need This: Today, you'll discover "How to Hit Your Driver Straight in 3 Very Simple Steps"
If you really struggle with keeping the ball straight with the driver…
… there are a few really sneaky tweaks you can make…
…that'll not only make you more accurate with the big stick…
…but, it'll naturally make you longer and more consistent, too.
If you want to find out what these sneaky tweaks are…
…including some advice for your posture that might seem "backward" at first (revealed around the 1-minute mark)...
…make sure you check out today's video!
Golf Pros Featured:
Instructors Featured: Clay Ballard
Video Duration: 8:02
Watch This Video Now!
Normally, this video in our step-by-step, course-based training is only available to our All Access Members...
But I'll let you watch this ONE video today only... because I can already tell I'm going to like you !