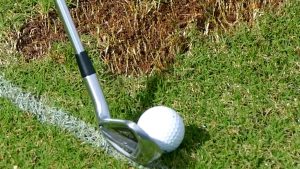 Why You Need This: In this video, you'll learn how to hit the ball then the turf with your irons.
Have you ever had a nice, wide open look at the green but inexcusably chunked your approach shot?
Dang... All you had to do was make decent contact and the hole was yours.
Instead, your ball fell way short of the green (and your buddies probably let out a few chuckles too).
It's so frustrating. Let's make sure that never happens again...
In this video, you'll learn a drill that'll help you make solid contact with the ball first, then take a divot.
Watch now to hit solid iron shots every time!
Golf Pros Featured:
Instructors Featured: Clay Ballard
Video Duration: 7:07
Watch This Video Now!
Normally, this video in our step-by-step, course-based training is only available to our All Access Members...
But I'll let you watch this ONE video today only... because I can already tell I'm going to like you !