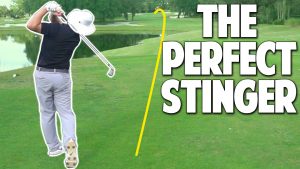 Why You Need This: Today you'll discover "How to Hit a Stinger | Keep It Low and Let It Roll"
The ability to hit a "stinger" is a great weapon to have on the golf course...
...whether you're using it to get out of trouble, keep your shot out of the wind, or just to get the ball into the fairway with some roll...
...there are a variety of ways it can come in handy.
Hitting a stinger doesn't need to be difficult...
...but there are 3 big mistakes I see all the time that make it much tougher on you.
The first, and the one I see most often, is putting it way back in your stance and trying to chop down on the ball...
...check out what you SHOULD be doing instead and discover the other common issues I see a lot.
And be well on your way to having an extra option at your disposal while navigating the course...
Golf Pros Featured:
Instructors Featured: Clay Ballard
Video Duration: 8:44
Watch This Video Now!
Normally, this video in our step-by-step, course-based training is only available to our All Access Members...
But I'll let you watch this ONE video today only... because I can already tell I'm going to like you !

Video Transcription:
Clay Ballard: All right, that has got to be one of the most fun shots that you can hit. You see that landed on the left side of the fairway, and that is just going to roll and roll. It will go forever.
When the fairways are firm, the stinger is a fantastic shot to hit. You don't even have to hit it that hard, it's going to get on the ground, it's really going to scoot.
So that one carried 234 and rolled out to 272, so pretty dag-gone good. I've got my Ping Blueprint 2 iron here, this thing's pretty sweet looking.
Probably not the most forgiving, but you can do this shot with a hybrid, with a 3 wood even, anything with low loft.
Now, the number one mistake that I see with this, one of the first ones I see, is players try to get it low by hitting down on the ball. They'll put it way back in their stance on their back foot.
They'll feel like they're going to chop down into this golf ball and what ends up happening when you hit down, it creates a lot of back spin and that ball will start off low, but it kind of balloons up.
You notice how that one went low, you could almost see it going never higher than the trees there, and then when it hit it scooted, it ran. That only happens when I swing level.
Notice how I just kind of brushed the turf, I didn't really even take much of a divot. I could hit down a little bit more than I did there, but I want to play that ball kind of in my normal ball position.
If I play it back at all, I don't want to get it much more than say one ball back of normal. So if this is my normal ball position to where I'm going to hit a nice high one, I'm going to play it about right there. I mean almost the exact same.
Now what I'm doing to take the loft of it without hitting down, is what the pros are doing pretty much on all their shots.
So I don't want to chop down on it to take loft off, I want to use my body to get lower, get the shaft lean, and what you can do is you can put your club on the ground, really use your legs here, and have that club scoot on the ground the entire time.
I don't want to do this and have the face open while I'm doing that, that's going to be a block to the right. I want to get it on the ground, get it squared up.
So you can see my club face is actually squared up toward the turf, and then there, I'm using my body to rotate through the shot.
I really feel like my legs are engaged, I really feel like I can get tons of lean on this, but I'm not just slamming it down in the ground. That way it's going to come off low, very well-compressed, and then it's going to hit the ground running.
So again, basically normal ball position. I'm really just going to make sure that I get that lean and kind of brush the turf slightly down is fine, and that's going to be a low knuckler. Let's try it out.
I actually hit that one, that was actually pretty cool. I was trying to exaggerate, and I hit it so low, not a good shot, but I'm just doing a little too much of a good thing.
I hit it so low I actually hit it solid, but it skimmed the turf of this tee box. If you do that much, it could actually a little bit of a negative thing.
But most people are not going to do that to where you're going to hit it so low it's going to actually skim the grass as it's coming through.
If we look at the loft on that, were going to be able to see that its pretty low. I had 5° of loft on that club at impact, 4.9°.
So that's just doing a great thing to the extreme. I felt like I got low, rotated my body, and I got tons of forward shaft lean which I love for most players to do.
The next thing I want to make sure I don't do is square it with the release of this club. So a lot of times, players will use the release of the club, or kind of a little bit of a casting motion, to feel like they square the face up.
You can see that now that face is square. If I'm used to doing it that way, when I get my hands leaning in front, look how the face is wide open now.
So if you're used to squaring it up doing this, when you push the hands in front to get forward shaft lean, look how the face is way over this way. That ball's going to go a mile to the right.
What you have to make sure you're doing is go back to this drill again where it's on the ground, and I'm actually going to rotate my wrist to get that face squaring up. You'll see how that closes the club face down.
Now from there, I can rotate on through and this club face is square. See how now it's not open, it's actually squared up that way. That allows me to hit that nice, tight draw even when I get forward shaft lean.
Another thing I see players do is they try to shove the hands in front of the body. So if you can imagine this is my belt buckle and my shirt buttons.
We have this visual, most players tend to stand up a little bit, the body doesn't get very open, and then again, square with that release, that flip, and the body isn't open so they think, well I need to get more forward shaft lean, I'm going to keep the body in this position, and just throw the hands out there again.
Now in addition to opening the face like we just talked about, its actually impossible to get the hands on the left side of your body at impact.
Because of the rotation of my body, there's a lot of speed and my hands just can't catch up and go past my body without releasing the club.
If you imagine your center line is your belt buckle and your chest, it can never really get the hands, maybe a tiny bit in front of them, but you'll never get the hands on this side of the belt buckle by a noticeable amount.
That seems pretty dag-gone counterintuitive. How am I supposed to get forward shaft lean if my hands can't lean the shaft forward? Well, it actually comes from rotation of the body.
So when I rotate my body and I have my hands on the right side, they're actually leaning forward.
For example, let me go ahead and rotate – I'm going to keep my relationship with my hands, arms, and club the same, and I'm going to point my hips instead of being open like this, Im going to point them to be square to the camera. That's where my hands are at impact.
It's my body that's rotated open that allows them to get forward. So those two pieces, rolling the face and rotating the body, go hand-in-hand together. If I'm not doing both of those, I'm not going to be able to get this great stinger shot.
So again, notice how my body rotates open, and that club face closes early. There we go.
Again, a bullet that barely got over the height of the trees, and that's going to take off running just down the right edge of the fairway. It's that body rotation, that club face squaring up that allows you to get the lean of the shaft.
Now the last thing we want to do there to make sure this works is we don't want to keep that right heel glued to the ground.
If I want to get that forward shaft lean, we talked about how I have to get my belt buckle opened up at impact.
I have to get it on this side of my body. That way my hands can be behind my belt buckle and still have forward shaft lean, just like this at impact.
Now if my right heel stays glued down, for most players that aren't very flexible which is the majority of players, I find that that's going to stall the hips out and then the hands and arms are going to flip to try to keep this club moving with some speed.
I'm completely fine letting that right heel feel like it does this as you're coming through impact. So I'm going to rotate that right heel to let my hips open up a little bit more, which is completely fine.
Now if that right heel only lifts an inch or lifts four or five inches, I'm completely fine with that, as long as the body keeps on rotating open. Let's give that a whirl.
There we go, another stinger down the left edge.
Now one that I touched on here a little bit that is really important, is this squaring of the face. The pros are using their wrists in a particular way to bow that wrist and even with the right hand, turn that right hand down and away.
It allows them to square that face early, and when you square the face early, you're also taking loft off the club. You're getting that forward shaft lean.
Now I've reviewed tens of thousands of swings. I've seen many, many players hit balls when I'm doing online lessons, in person, I've seen lots and lots of swings.
I can probably count a handful of players that weren't scratch golfers or better, that had enough of that forward shaft lean.
The big part of that comes from getting the club to the inside and squaring that face early. When you can do that, the forward shaft lean happens pretty easy.
Now The Move section, I'm going to walk you through exactly how to do that. If you struggled to hit those nice, tight, compressed draw shots, I'm going to show you exactly how to do that in The Move.
All you need to do is go to the Instruction tab, go to the Top Speed Golf System, click on The Move section.
Then from there, I'm going to walk you through step by step exactly how to get those wrists working correctly, exactly how to get that club coming from the inside, in the slot, so that you can really compress these like you never have before.
Pay particular attention to the Tennis Racket Drill in that video, I believe it's the second or third video in there, and I'm going to walk through exactly how to use this hand to make that really click for you.
So best of luck, I can't wait to see you in The Move. Let's go ahead and start really compressing the heck out of it. I'll see you there.