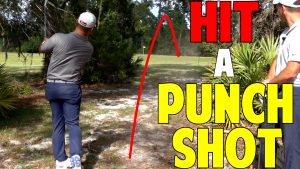 Why You Need This: In this video, you'll learn how to hit a punch shot.
Now, nobody wants to be the guy who hits a shot into the woods and then tries to hit a Bagger Vance style miraculous shot onto the green.
It may work in the movies, but more than likely you'll hack the ball into an even worse lie and destroy your scorecard with a 10 or worse.
So it's important not to turn one bad shot into a total disaster.
Here's a quick review of some of the tips shown in the video...
First, consider all of your options.
If you have a shot where, if you had 10 chances, you'd get out safely only 5 times, then move on to another shot.
When you're in a bad situation, your goal is to get a bogey and be done with the hole.
You can recover from a bogey or a double bogey so don't risk shooting a plus 6 on a hole unless you just love living dangerously :)
Next, consider your lie.
If the ball is set up relativity nicely, you may be able to hit a low lofted club like a 4 iron.
However, if the lie is bare or in a sandy area, you should use a club with a higher loft (6 or 7 iron).
Using a 4 iron on a barren lie may cause the ball to come out way too low and you'll be lucky to get it off the ground.
The next step is to choke down on your grip.
This is super important if there any low branches that can affect your backswing and downswing.
Also, put the ball slightly back in your stance to reduce the loft of your club a little.
Lastly, be conservative with your hands.
Take a smaller backswing and swing on through.
Watch this video now to learn how to hit a punch shot and finish the hole alive!
Golf Pros Featured:
Instructors Featured: Clay Ballard Robin Rosado
Video Duration: 3:49
Watch This Video Now!
Normally, this video in our step-by-step, course-based training is only available to our All Access Members...
But I'll let you watch this ONE video today only... because I can already tell I'm going to like you !