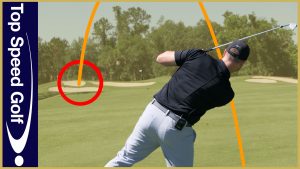 Why You Need This: The game of golf can be so wonderful, but it can also be extremely humbling.
A great round can get derailed quickly by a couple bad shots if you don't know how to adjust on the fly.
In today's video, I'm going to focus on a very common "miss", a pulled shot.
Pulled shots can be very frustrating because the shot can feel good, but you look up and it's going well left of the intended target.
If you understand how this has happened, and what you need to do to fix it, you can jump right back on track and save your round.
In this video you'll learn:
The most common reason you pull the golf ball (and what the pro's do to avoid it)
A series of drills to ingrain the proper technique up to 10x faster than typical training methods, and
How all these lessons tie into the Top Speed Golf System
Let's get started.....
Golf Pros Featured:
Instructors Featured: Clay Ballard
Video Duration: 10:51
Watch This Video Now!
Normally, this video in our step-by-step, course-based training is only available to our All Access Members...
But I'll let you watch this ONE video today only... because I can already tell I'm going to like you !

Video Transcription:
You walk up to the fairway and your ball is sitting right in the middle. You just hit one of the best drives of the day on the toughest hole on the course.
Now you have just a middle iron into the green, little bit of trouble left, but you're not worried about it because you've been hitting it pretty dag-gone solid.
You make your swing, you hit the ball dead flush, you swear it's going to be all over the pin when you look up.
But when you look up you see the ball is traveling well left of the flag, and it slams into the lip of a bunker. You have an impossible shot, and you're going to make a double bogie.
It's one of the most frustrating things that you can do. You feel like you're hitting it good, but you're getting really poor results because you just can't stop pulling the ball.
Now the good news is, you have half the battle already won. When we're pulling the ball, we're coming a little over the top and we're actually squaring up the face already.
We have the square face, we've got that knocked out. All we have to do is make one simple change to get that ball started on a better line.
Now in this video, I'm going to break down some really cool data tht I've gathered from the pro golfers. All pro golfers do this one thing to allow them to hit the ball straight. I'm going to go over that for you.
You can incorporate it in your swing right away, very easy to do, and it's going to make a world of difference.
Let's go ahead and get started.
All right, now if we're struggling with the pull, there is one move that is by far and away the most important thing we can do. We want to make sure that we don't get tilted too far forward with our upper body when we're hitting into the green.
So I'm going to go ahead and hit a 9 iron into this green. I'm going to tilt my upper body a little bit too far this way. You'll notice that makes it really easy to pull a shot to the left.
There that ball went directly left into the bunkers. That one actually went so far it missed the bunkers, rolled down the hill, and now I have an impossible chip shot coming into this green, or almost a flop over the bunkers.
I'm liable to hit it into the bunkers on my next shot, and make a triple or quadruple bogie. It's very easy to do that.
Now when I get my body tilted to the left like that, so my upper body instead of being tilted away like we'll go over here in a second, and like all the great players do, we get it tilted a little bit this way.
What happens is, if you can kind of imagine the swing happening like a hula hoop. So if I'm swinging kind of on this giant hula hoop here, as I tilt my body this way, that tilts the hula hoop to the left. That gets that over the top kind of motion that we talked about.
Now being a good player, you've already learned to square up this club face. So when you get a little bit over the top, that ball goes directly to the left. You hit it nice and solid, but man, it is frustrating because you're just missing a ton of greens when that happens.
So what we need to do is get our tilt away, what I call the Stable, Fluid Spine from our Top Speed Golf System. Now here's a really cool project that I did to measure what the best players in the world are doing.
Now I've given thousands of online lessons, and one thing that I would always do is I'd put a pro example up when I was giving online lessons to kind of show players hey, here's what you should be seeing, here's what the best players in the world are doing, so they can visually see that.
Now I noticed as a did thousands of these things over the years that all pro players were doing the similar stuff. They were all tilted away.
When I put that to the test, what I actually did is found slow-motion footage from all the Major winners from the year 2000, and I found that their spine was tilted away at contact.
If I freeze-frame them right when they're making contact with the golf ball, their spine was tilted away between 19° and 25°.
Now that's crazy that all these different players with different coaches, that grew up in different times, different ages, different body types, were all coming to the same conclusion. They were all tilted away from the target.
Now the reason for that is, if I get tilted away at contact in this great Stable, Fluid Spine position that we teach in the System, I can easily get my hands in front of the golf ball.
With my spine tilted away, that's kind of setting me up to where my hands can get in line with my body, and I'm going to have some forward shaft lean, really compress that golf ball much better.
Again, if I get leaning to the left, now all of a sudden if I did that, and I had forward shaft lean, I would swing and chop down right over top of the golf ball, I have to kind of flip and scoop the club to get the ball to go anywhere near where I wanted to get it to go.
So tilting away like that really helps to get that forward shaft lean and compress the golf ball.
Also, like we talked about with that kind of giant Hula Hoop, is I get tilted away a little bit. Now my spine is angled to where it's much easier to come from the inside.
So that one, simple change is going to help you to get more forward shaft lean at contact. It's going to help you to really compress the golf ball better. It's going to get rid of those pulls.
It really solves a lot of issues. Just like we see with the top pros, they're all doing it the same way. No matter who they are, their spine is always tilted away from the target when they're coming into contact.
So I have my belt buckle in front of my shirt buttons, I'm going to keep my shirt buttons behind my belt buckle the entire time. I'm going to feel like I keep my head behind the golf ball.
Now that's going to shift my path, or the direction I'm swinging a little bit more to the right, and it's going to make it easy to hit a nice, straight shot.
There we go, and that is right on top of the flag. Nice draw in there, and I should have a pretty short putt, maybe 10 feet to the left of the target. Definitely not pulling it to the left like I was before.
Now let's go over a series of drills to make this really easy to do.
So I've got an awesome way for you to actually engrain this much faster than your playing partners, the people that you normally play with.
Most people actually practice incorrectly. I'm going to teach you something called variability training, and it's going to allow you to get engrain this up to 10 to 15 times faster than doing the traditional type of practice where we just do the same thing over and over again.
Now first I want you to get a feel for the incorrect move. That's right, I actually want you to hit some improper shots, some bad shots, to start to feel what happens when you do hit these.
That way when you get out on the course and you hit one of those, immediately you can sense what's going on and we'll know exactly how to fix it.
The way I'm going to start out with this, I'm going to again do the opposite. I'm going to feel like my belt buckle is back, my spine is leaning forward a little bit.
Now my shirt buttons, if I was to kind of drop a club down and just hang it like a tie from my shirt buttons, you would see it's in front of my belt buckle.
My weight is going left. I lot of times people get into this bad habit, because we feel like we want to keep our weight left so we can hit down on the golf ball.
We start to tilt too far to the left, and now when I make a swing doing this, you can see that it's easy to pull a shot to the left every single time.
So that one went way, way, way left. Hopefully I didn't hit that person's backyard there. Probably a good 30-40 yards left, and I really didn't even feel like I was going to hit it that far left.
But just getting my body in that position, I came over the top because I've learned to square up the face, hit squared up to the path and everything just shot way over there.
You can see that from the FlightScope, not where I'm wanting to hit that one.
Do one or two until you purposefully hit a couple to the left. Now again, the reason for this, don't skip that step. Most people are going to want to skip right to the solution.
Don't skip that step, because once I start to feel the improper way, now I can sense it when I'm on the golf course and I'll know when I need to fix this.
Now let's do the opposite. Let's go to the other extreme. Now what I want you to feel like here, is when you get your shirt buttons behind, again if I had that kind of tie hanging from my neck, I would have those really extreme here to where to they're kind of over my right leg.
Now this is too far. I'm actually going to the other extreme, and I'm hoping to hit one a little too far to the right.
Now you see my belt buckle is in front here, and I'm imagining for this, that that plane of glass or that Hula Hoop that I'm swinging on is well out to the right, like it's going to be a very much inside out swing. I'm going to hit a big draw.
The last thing here, put that ball a little farther back in your stance. When I start to lean too far left, a lot of times the ball will creep up into the front of my stance, makes it easier to pull it.
Here I'm going to put that ball back in my stance. All right, so my shirt buttons on my right knee, belt buckle forward, swinging out to the right with that ball back, and now we're going to try to hit one toward the right side of the green, or even miss it to the right on purpose.
That's exactly what I did, I hit it into the right bunkers. Probably a good 30 yards or so right of the green. Now you're probably thinking, Clay, what in the hell are we doing? We just hit one in the trees left, we hit one into the bunkers right, why don't I want to practice the correct motion?
Well, here in reality is what happens. Every single day that you go out to play golf, you're going to hit a ton of bad shots. You're going to hit some to the right, you're going to hit some to the left.
A lot of the times, if we haven't practiced, what's happening when we do those, we're completely confused when we get out on the course.
But if I can take a little bit of time on the range and purposefully set my body up in ways that it's going to make it go to the left, make it go to the right, now I have a feeling for that.
Now all I need to do is find the middle from there. So I don't want to skip this step, I've got to him them left and right first, and then we're going to find that middle zone.
If we skip that step, what's going to end up happening is you're going to keep hitting them to the left, you're going to hit a couple good ones, you're going to hit a couple bad ones.
If you do it this way, we're going to get a solution that lasts for a lifetime. Now, I'm going to find that middle zone. I'm going to go ahead and set up here to the target, I'm going to play my ball in the correct position in my stance, so kind of in the middle of the stance, with kind of a middle iron like this.
My shirt buttons, if I'm going to hang down that tie, is going to be just a little bit behind my belt buckle. I'm going to feel like my head, as I'm coming down to contact, is a little bit behind that belt buckle.
It's almost like I'm tilting my body to where I'm looking at the inside back of the ball. If I had that Hula Hoop, or that plane of glass again, it's just a little bit inside out. Not very much, I'm just almost going toward the right center of the green.
If I do that, now I'm going to split the difference between those two shots, hopefully this is going to be a nice draw, just barely to the right of the flag.
There we go, I absolutely pured that one, that's about as good as I can hit one. That is all over it.
So do that test for me. Get your body tilted too far to the left. No pros, there's not a single player that I've ever tested on the PGA Tour that has their body up and down when they come into contact.
If you see yourself doing that on video, you know you're off track and you know we can hit it a lot better.
Number one, do it incorrectly left. Number two, go to the right, hit it too far to the right, and number three, let's find that middle zone so we can flush the ball and hit it nice and straight every single time.
Now what we don't want to do is watch this video, go out to the course, start hitting it better, and then completely forget about the Stable, Fluid Spine.
That's great for short-term success, that's going to get us on the right track by doing these variability drills, we're going to improve. But the problem with that is, we haven't really engrained it. It's not part of our swing yet.
The way to make it our own, to own this motion, is to go through the Stable, Fluid Spine section on the Top Speed Golf System. So work through Level 1, then Level 2, Level 3, and it will become completely natural.
So best of luck, and I'll see you in the Stable, Fluid Spine. Let's go ahead and get started.