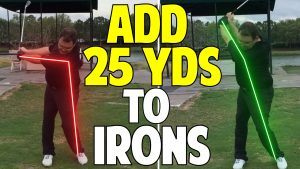 Why You Need This: In this video, you'll learn how to hit your irons farther.
Are you struggling to get the distance you want with your irons?
Are you hitting a 6-iron while your buddy is hitting an 8-iron?
No worries... In this video, you'll learn a quick drill to help you make a bigger turn, add more lag to your swing, and increase your distance.
In fact, a TSG student gained 25 yards with his 8-iron working on this drill for just 1 hour.
Insane results in such a short amount of time, right?
Watch now to try out this drill and hit your irons farther!
Golf Pros Featured:
Instructors Featured: Robin Rosado
Video Duration: 4:04
Watch This Video Now!
Normally, this video in our step-by-step, course-based training is only available to our All Access Members...
But I'll let you watch this ONE video today only... because I can already tell I'm going to like you !