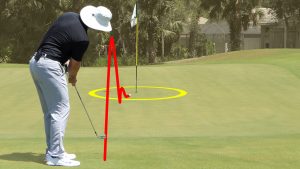 Why You Need This: Today you'll discover "Have You Been Chipping Wrong Your Whole Life?"
I know this has happened to you more times than you'd like for it to happen.
The pressure of the round is at its peak...
You need to get the ball up and down to save par and you'll win the hole for your team...
This chip is SO important...
You just HAVE to get it close...
They're counting on you...
You pull the club back...  and...
You chunk the ball and it goes about 10 feet in front of you and you're still not even on the green.
Guess what?
It's not just you, we've ALL been there and done that.
But what if this is happening because you've been taught the wrong way to chip the ball?
What if I told you that you can learn how to "free things up" in your chipping stroke?
You CAN gain the confidence you've always wanted to have in these pressure situations.
How would you like to be known around the clubhouse as having "ice water in your veins"?
Take the first step by watching today's video.
Golf Pros Featured:
Instructors Featured: Clay Ballard
Video Duration: 7:58
Watch This Video Now!
Normally, this video in our step-by-step, course-based training is only available to our All Access Members...
But I'll let you watch this ONE video today only... because I can already tell I'm going to like you !

Video Transcription:
Ugh, that makes you so frustrated, you just want to snap all your clubs in two.
Do you feel like when you get over that important chip shot, maybe late in the round to win a hole, win a match, or just to play a really good round, put up a good score, you start to chunk them, you start thin them?
The hands get really tight, everything gets jittery, and shaky, and quick when you really want to be smooth and confident over the ball, it just doesn't seem like that's possible.
Well there's actually some really common instruction, and if you follow this, it works really good but only for a certain type of chip.
I'm going to talk about what type of chip that is, when you can use that type of shot, and how if you try to apply that same technique to all your chips and pitches, it can really destroy your confidence in your game.
You get really handsy, and you get really jittery over it when those shots matter the most. By the end of this video if you follow these steps, you're going to feel really confident over the ball.
You're going to know that you can step up to any chip shot and knock it close. Let's go ahead and get started.
All right, so what's a shot that only works sometimes and can really hurt your other shots? That is what I call the putt chip. That's where the idea is that we're going to use our putting stroke to hit this chip shot.
There's a variety of ways that we have to do this, but this actually works really well if we do this really close to the green.
So if I'm only 20 or 30 feet from this hole, it can be really easy just to putt the ball up there and be pretty consistent with it.
How does this work, exactly? Well number one, you want to take your putting stance, you want to make this feel like a putting stroke.
So as I set up to this golf ball, I'm going to take the width of my stance I would normally if I were putting.
The second piece here is that instead of having my normal grip and having this shaft kind of on an angle here, I'm going to raise this club up a little bit.
Now the toe is down, the heel is a little bit up on the ground, and what this does is it takes the leading edge, or the flat part, the sole of the club, and it tilts it up this way.
Now that's much less likely to grab in some of the grass. If only my toe is touching, it's going to kind of brush through the grass, it's going to have much less chance of getting stuck and digging, that kind of thing.
With those hands up, that helps it to glide through the turf a little bit easier.
The third thing here, I want to use a fairly low-lofted club. I'm not using a sand wedge, a pitching wedge, anything like that.
I'm really using like a 7 iron, 8 iron, 9 iron, somewhere around in there to get these little putt chips. Then finally, I'm really locking my legs.
When you putt, one thing that all great putters have in common, is they don't really move their lower body.
As I'm making this little chip putt, I'm not moving my knees at all, they stay perfectly still. You're locking in your hands and arms. You're kind of getting a little forward shaft lean, and you can kind of imagine all this being locked in.
All I'm going as I go back and forth is that stays locked in, I rock it back and forth, and that's going to be just like a putting stroke, only we're chipping off the green.
Now that can be really handy, these are actually pretty easy shots. This is not that tough when you're only 20 or 30 feet away, but there is some problems with this.
As you start to get a little farther from the green, you're not going to be able to hit them as close doing this. Here's the reason why.
When I putt, if you think about even a pretty long putt, maybe I take my putter back to here, that would be a pretty long putt as I'm coming back and through.
That's about all I feel comfortable with, keeping my knees still, keeping my body still, and still hitting this putt.
Well if I get rid of this seven iron, and maybe I need to hit it over something, or I need the ball to check up a little bit faster, all of a sudden I switch to my sand wedge or lob wedge, and I do this same technique, the ball just isn't going to go very far.
All right, so that bump and run shot, or that locked-in putting stroke idea works really good when I have to make a short stroke.
So if I'm only taking it back a couple feet and taking it through a couple feet like I would be with a putter, I can stay really still with my lower body.
I can stay locked in with my upper body. I can take a 7 iron, an 8 iron, a hybrid, just get the ball bumping up there, and it's really easy.
But at some point, we get far enough away from the green, or we have trouble in the way. Imagine there's a bunker here in our way that we had to hit it over that bunker to where that little short bump and run, putting stroke style just isn't going to work.
If we try to have that same idea, and have that locked in approach, that putting -type approach, and we try to make that work when we're farther away, everything falls apart.
Now if I'm farther away here, and I have my sand wedge, lets imagine that there is a bunker, or there is rough, or something where I have to carry the ball on the green here.
Now all of a sudden I'm trying to still keep my lower body still, I'm trying to lock everything up here at the top still, I just can't make that happen if I really use the technique the right way. The ball won't go far enough.
So what you end up doing, is you end up getting pretty jerky with the hands and wrists because you're trying to get more energy into it, and now all of a sudden we end up with this kind of mismatched, jerky, jabby-type stroke that can easily shoot it over the green or be well short of the green.
Now let's jump in on what the pros are doing to free things up. Now here, the main difference, one style, the putting style, everything's locked in, we're trying to control.
This style we're loosening everything up. If you pay attention to my knees, and what you'll see with all great chippers, they're going to let these knees pivot.
So I'm not trying to lock those in, I'm letting those flow as though I was going to just toss the golf ball up on the green. So if I do this, watch my knees here first, and then we'll get into the details.
So here I'm going to let everything turn on through, let my body create momentum, and now I can easily just chip a ball up there. It's not very tough at all, I'm letting my body create the momentum.
With this one, and one of the reasons that this is so much better with your hands and arms, and you don't feel like you're jabby, is I'm letting my body rotate, my hips are rotating, my chest is rotating, and that's creating the momentum.
If I just hold this club very softly in my hands, now all of a sudden, it's creating momentum that's going to hit the ball. If I try to lock that in, I have to create that speed with my hands and arms, and things get a little crazy.
That's the first key there, in order to do that, I'm going to set up with my heels almost touching, you'll see a lot of great chippers doing this.
I'm also going to open my feet a little bit toward the target. That makes things easier for me to open up and pivot on through the shot. That's going to allow me to use my body to create that momentum.
I'm also instead of going to locking my wrist in and keeping that really tight and rigid with my hands higher, I'm going to go ahead and just let my hands hang freely, and let my wrist stay really soft as I'm doing this.
So as I'm going back and through you can see my knees pivot, and everything else just kind of goes along for the ride. I get a little bit of wrist action, I get a little bit of wrist hinge, it's completely fine.
I'm not trying to lock it in and guide it, I'm letting momentum of my body create that speed, create that momentum.
So you can see there, it's really easy to hit these clean when you let your body do the work. Those are the main keys there.
When we're hitting the putt-type shot, that's completely fine if you're really close to the green, and you can make this stroke that just goes back to here and back to here.
At some point, that's not going to be a big enough stroke, or at some point, we're not going to be able to roll the ball across the ground, because there's a bunker in the way, or there's rough in the way.
We're going to have to make a bigger stroke. At that point when you make that bigger stroke, instead of trying to lock things in, free things up.
Ankles close together, feet open toward the target, my body creates the momentum, and my wrists stay nice and loose.
All right, so we don't want to stop here. We talked here about how to free up, use the knees, use the body a little bit more. Let's ingrain that. Let's make that completely automatic.
This video's going to get you started in the right direction, but let's get it to where it's so ingrained, we can't really do anything else and we're always chipping really, really good.
The way you're going to do that is to go through the Top Speed Golf System and our Short Game area, whether it's our putting, our chipping, our pitching, all that in there is going to help you to fine tune and horn in on your short game.
Once you work through the level 1 in these videos and go in order through those videos, you're going to build a rock-solid short game that's going to last you a life time.
So jump into there, go to the Top Speed Golf System, start working through our short game stuff, and it's really going to help you a ton.