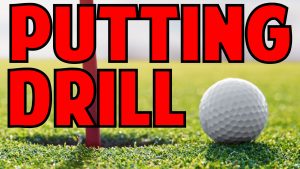 Why You Need This: In this video, you'll learn a golf putting drill to improve your putting speed control.
This is one of the best putting speed drills you'll find.
Not only will it help your speed...
It'll also help you visualize your line better.
Here's how to set up this drill...
Place one tee where you'll be hitting from...
Place another tee just inside the area of where the ball will break.
And place a third tee out in front (this tee will be your target).
The goal is to learn how your putting speed affects your line.
So for slower putts that break more...
Hit your ball around the tee and have it break towards the third tee.
If you want your putt to break less...
Try hitting your ball a bit harder and have it travel inside the second tee towards the third tee.
Alternate slower and faster putts and you'll develop great feel for your putting distance and directional control.
Here are a few additional putting tips...
keep your lower body soft and stable
use a soft grip with your hands
feel like you're rolling the ball with topspin
So try out this great golf putting drill.
See if you can hit the third tee two times in row from about eight feet out - one traveling above the second tee and the other below the second tee.
Watch this video now to get better speed control with your putts!
Golf Pros Featured:
Instructors Featured: Clay Ballard
Video Duration: 2:35
Watch This Video Now!
Normally, this video in our step-by-step, course-based training is only available to our All Access Members...
But I'll let you watch this ONE video today only... because I can already tell I'm going to like you !

Video Transcription:
Hi guys, I've got one of the best putting speed drills that I've seen in a long time. This is really going to help you to get the right speed and also to visualize your line a little bit better.
So the way we're going to set this up is I actually have three tees in the ground. I have one here marking where I'm going to putt from.
Then I have the second tee that I put in the ground, I went ahead and put a golf ball on top of it so you could see it a little bit easier on camera. Then a third tee out in front.
So the idea here is that I want to get on a putt that has some break to it. I can go right to left break, I can go left to right break, whichever one you want to practice on.
The idea is that I'm going to putt the first ball, it's going to go above that tee and then still curve down and hit this second tee.
So that's going to be my really slow putt. I'm going to play it above the first tee, and then when I come back after I hit that one going above this first tee, now I'm going to get a lot firmer with the stroke, and I'm going to try to make this by going below the first tee.
So now we can see a lot firmer, and I actually hit that one, clipped it off the tee. It really takes a lot of skill as far as controlling not only your direction, but also your distance control. Let me give you a couple tips here to really focus in on this, and I'll see if I can make a couple of them.
The first thing that I would really work on is staying really soft and quiet with your feet. I don't want my feet to be moving around, any kind of body movement, I want to feel like my lower body is completely still and I have very soft feet.
Another one is going to be a really soft grip with your hands. I want to feel like my left hand's doing a lot of the work, and it's kind of extending on out down the target line. I want to feel like I'm rolling the ball, putting a little topspin on it.
A good way to visualize this is as you're coming back, imagine the putter kind of rolling upward as the loft is taken off the face, the putter's rolling upward and it's getting that good end-over-end turn. So it's really spinning forward as it rolls on the green.
So nice and soft feet, little bit of topspin, good soft stroke. Let's see if I can go ahead and hit one above this tee and get it to break down and hit the bottom tee.
Almost, just a little bit too high. Then once I've done that, I'm going to hit that tee. We'll go ahead and do one at the bottom which is much more firm, and we'll go under the tee.
There we go, got that one that time. So work on this. I want to see if you can do two in a row from about, let's say 8 or 10 feet. Then let's go two and a row from 2 feet farther, and then 2 feet farther.
So maybe if you're a beginning player, you'll start out with some little short putts from here. Then you'll gradually work back going putts that have more break and you're really going to develop that speed control.
Good luck to you guys, go out there and drain a lot of putts.