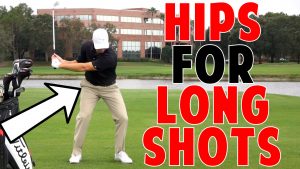 Why You Need This: In this video, you'll learn how to swing with fast hips for long golf shots.
Consider some of the long hitters on tour…
Rory McIlroy, Adam Scott, Tiger Woods, Bubba Watson, on and on.
One of the moves they all have in common is fast hips.
Their hips rotate through the shot with tons of speed.
Here's how speeding up your hips will help you get more distance...
Fast hips will help you come into contact with more lag and will also help you swing with a Straight-Line Release.
Note that the hips should slow down a little to allow for you to release the club through contact.
However, a common problem with golfers is slowing down the hips way too early, which destroys distance.
Watch this video now to discover how your hips add distance to your swing…
And learn the key moves you need to work on in order to speed up your hips.
Golf Pros Featured:
Instructors Featured: Clay Ballard
Video Duration: 7:04
Watch This Video Now!
Normally, this video in our step-by-step, course-based training is only available to our All Access Members...
But I'll let you watch this ONE video today only... because I can already tell I'm going to like you !