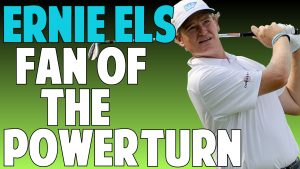 Why You Need This: How would you like to have Ernie Els rhythm?
I think we all would!
Well, in this video, I "team up" with The Big Easy to help you swing more smoothly and get much better results.
You'll hear directly from Ernie what his big keys are not only for rhythm, but also consistent ball striking.
He provides a great lesson, and then I expand on it to give you some key pointers about how to get a Power Turn just like Ernie.
Watch the video now to improve your distance, rhythm, and consistency!
Golf Pros Featured: Ernie Els
Instructors Featured: Clay Ballard
Video Duration: 6:01
Watch This Video Now!
Normally, this video in our step-by-step, course-based training is only available to our All Access Members...
But I'll let you watch this ONE video today only... because I can already tell I'm going to like you !

Video Transcription:
Hey guys, welcome back. I was recently watching this video that I'm going to show you here in a second with Ernie Els, and it really rang true with exactly what we were talking about in the Top Speed Golf System.
I thought I might do a cool video, something a little different where we normally do, where we kind of go back and forth.
Let's start this off by, first let's take a look at the Ernie Els video, and then I'll elaborate on that, and give you some great drills to practice in a second.
Ernie Els: All right guys, in the fairway. A lot of people ask me about how do you strike the ball solidly every time. We all obviously ball differently, we've got different tempos in our swing.
But the one thing my father always told me was that I need to complete my backswing. At times, when my ball strike is not really on, I always look at my ball position.
I've got a 7 iron here, and when my 7 iron goes too far up in my stance which is a weak thing that I have in my game. I need to move it back because I want to feel like I'm completing my backswing.
What do I mean by that? It means tht when I get my left shoulder behind the ball, I've completed my backswing, and I can't go much further than that. That means that you are fully loaded and from here, your transition is going to be nice and smooth.
You're not going to be rushing at the ball. If the ball's further up in my stance, sometimes I feel I can't really get to the end of my backswing. I will swing here, and then I'm rushing towards the golf ball.
Clay: Now one of the first things Ernie mentioned was our ball position. Let's elaborate a little bit on what he mentioned with the ball up, or a ball back.
So if my ball is too far forward in my stance, what often will happen is I'll kind of get in a rush to get back over to the ball and make contact with it. So a lot times I'll cut off my backswing pretty short.
If I get the ball in a good stance, and what I would classify as a good part of the stance, he mentioned in his video just forward of center. So if this is dead center in my stance, we're going to go just a little bit forward.
Anywhere off the logo of your shirt, if you have a logo on, your left ear, or just a little bit forward of center, that's a great place to play all your irons. Then from there, I'm going to focus in on feeling like I turn my shoulders past that golf ball.
So my left shoulder turns under. In order to make that happen, especially for those of you who are a little bit tighter, Ernie obviously a very flexible guy. Some of us aren't as flexible as him, including myself.
I'm going to focus in on my belt buckle. I want to get my belt buckle to turn so my right leg is going to straighten just a little bit. Still has a little bit of flex, but it's going to straighten some.
My left knee is going to soften up, that's a big key. If you're not very flexible, that left knee has to soften so that you can turn your hips. Just like we saw Ernie in that video, looks how much his hips are turning, he's really letting that belt buckle turn to the right.
Now that's going to loosen up my upper body so I can get that good, full turn all the way to the top. If I keep my right knee stiff, I keep my belt buckle forward, now I'm not going to be able to get that Power Turn like we talked about.
I'm already really, really tight even though I haven't gone very far back. So loosen the left knee, get the belt buckle rotating to the right, and then that's going to allow you to get that good, full turn just like Ernie was talking about.
Now a big key to this too which he didn't mention, or he only briefly mentioned was his smooth transition. He is an absolute master, the best in the world at having a smooth transition.
The reason it's so smooth, is that he's getting that good full turn and rotation as he goes to the top, that's creating a big arc. Now his arms have a lot of room to slowly increase their speed and still reach their maximum speed at the bottom.
If he gets short with that backswing, it's only to right here, not very much of a shoulder turn. Now we've got to really start going at it quick with all arms. That's what I see a lot of players struggle with, so make sure you let those hips rotate.
Now finally, let's go to the opposite end of the spectrum, what happens if we play that ball to far back in our stance? A lot of times we'll still try to kind of fall back, we won't really make that good turn.
Oftentimes you can get your ball too far back and that's going to hurt your turn too. So we want that stance nice and in the middle of the stance, maybe a little bit forward.
Soften up that left knee, rotate the belt buckle, and we're going to get that good, full turn with the left shoulder behind the ball, just like Ernie Els talked about. So work on those, and let's go ahead and hear what else he has to say in this video.
Ernie: You want to feel like it's just from the top of your swing, it's just dropping down into the slot and you're completing your follow through. Let's check again.
I pull back my ball position almost to the middle of my stance. I make sure I get this left shoulder behind, so I've fully stretched my back behind the ball. Then the transition is nice and smooth into the ball and through.
You'll also feel like you're going to compete your follow through, it's going to be a nice full extension through the ball. Try that.
Clay: Now finally, the big piece of this once we've got this big turn going back, we've got tons of potential energy to build that speed, we've got to make sure that we finish our turn.
There's a couple keys with this also. Number one, make sure your right foot rotates all the way around to just where the toe is on the ground. If I kind of stay on my right foot and it's a little bit bent like this, I'm not going to be able to get to my full turn, I'm going to be in all arms.
From looking at it from this way, it's going to look something like that versus all the way around. Also I want to get my belt buckle as I finish my swing, my belt buckle should be facing the target.
Then finally, I'm going to take my right shoulder, and it's going to go as far down toward the target as I can in my finish to ensure that I get to the that good full turn going through.
It's important to know we're not trying to force this, we're not trying to just create flexibility that isn't there, but we want to make sure that we get our full range of motion just like we saw with Ernie Els.
So take these keys, not only for your backswing but your finish. Follow Ernie Els' advice, make that big Power Turn going back and through, you're going to play some great golf.