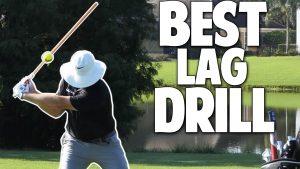 Why You Need This: Today, you'll discover an "Effortless Golf Swing | Simple Move for Easy Power"
If you're someone that struggles to release the club AFTER impact...
...then you may not know what it's supposed to "feel" like to have that post-impact release.
Today's drill is going to give you a fantastic way to feel that "snap" of power you create by releasing out in front...
...and includes the key to making sure you're putting yourself in the right position to be able to do it!
Once you get this down, you'll be putting forth less effort...
...and creating more power!
Golf Pros Featured:
Instructors Featured: Clay Ballard
Video Duration: 7:00
Watch This Video Now!
Normally, this video in our step-by-step, course-based training is only available to our All Access Members...
But I'll let you watch this ONE video today only... because I can already tell I'm going to like you !

Video Transcription:
Clay Ballard: Now have I got an awesome video for you. In this video, we're going to talk about the right way to release power in the golf swing.
You see a lot of players when they swing, they go hard from the top and they fling that ball in that direction.
I'm going to talk about how to release power through the golf ball so that you get tons of lag, you get that huge snap of speed as you're hitting through the ball, and man, you're going to hit it a whole lot more solid, too.
Let's go ahead and get started.
All right, so really cool drill for you today. What I've done is I've taken a tennis ball…This is a cool drill, because it's just household items. I've taken a tennis ball, I put a hole in it, I'll talk about this black line later in the video.
I've thrown a little bit of tennis overgrip on there just so it's easier to hold on to it when you're swinging it. This is such a skinny stick, especially if your hands get sweaty, its' going to slide around.
But I've just put this ball on there, and I've put it about three-quarters or half the way up this stick. It doesn't make too much difference.
What I've found is most players, when they go to the top of the swing, they know, we all know that we shouldn't be rushing from the top of the swing but more mind, our intuition tells us that if I don't start going really dag-gone hard from the top, how am I going to have any speed when I get to the bottom?
Well, there's a way of doing this, it's that cracking the whip. It's that flinging it through impact. It's that snap of speed like everybody's told you about, but there hasn't been a good way to feel that. This is a fantastic way to feel that.
Now, if we do this correctly, instead of having that ball flinging back this way, what is going to happen is, I'm going to keep this angle of lag and I'm going to rotate my body open.
Here's the big key. As you start to rotate your body open, my hips my shoulders, everything gets more facing out in front of me.
Now I've saved everything up and got into a position to where I can release this club out in front and that ball's going to fling toward the target.
So here, instead of feeling like I stay closed with my body and I hit hard from the top, I'm going to feel like I first stay smooth until I get everything open toward the target. Then from there, I'm then going to fling this ball down the fairway.
Now once you get that sensation and once you've done this 5 or 10 times, the players that I've had do this drill intuitively start to get the right release pattern.
That should look something like this. Nice and smooth, and then I'm going to fling that out in front. Now you can see that ball went almost straight ahead, a little bit to the left.
If it goes a little bit to the right, a little bit to the left, a little bit up, a little bit into the ground, it doesn't really matter. It doesn't have to be that accurate with this drill.
You'll know right away if you're doing it wrong, because the ball's going to be going that way, away from the target.
All right, so now that we've got the idea, let's go ahead and talk about probably the biggest key to make this happen. It happens when opening the body like I talked about.
So many times what I'll see a player do, is when they start down this left knee kind of kicks in, their hip stays locked, and everything stays facing away from the target.
So now I'm kind of throwing and keeping my body very closed. A common side effect of this is standing up out of your posture. If you're standing up and losing your posture, if you're casting from the top, it all starts with this left hip.
What I want to imagine is a couple things. I want to imagine that my first move down is getting my knee cap facing the target.
As I start my downswing, I'm going to feel like I open up my left foot and get this knee cap facing more toward the target like that. That's going to look something like this.
Now if you're not very flexible in your left leg, I have a good test for this. If you keep your foot straight ahead, flat on the ground, and you rotate your hips as much as you can with your knee locked, how far can you open up?
If you can't get at least 45° open with your hips, with your foot straight ahead, you need to flare that foot out. The reason again is so that you can get that knee opening up.
If you have limited range of motion in your hip socket, if your foot is square, you're going to try to open your hips, you're going to try to open that knee, but it's simply not going to happen. You don't have the ability to do that. So flare that front foot out.
Again, the first move down is going ahead and open that knee, get it more toward the target.
The second piece that I want to feel like is I want to imagine there's a string tied to my belt loop here, and somebody's sitting back here behind me and as soon as I start my downswing, they're going to pull that string and it's going to push my hip back this way.
They're going to yank my hip open, and that's going to allow me to get my body open in this position to where now, again, I can throw this toward the target.
All right, so there's one more piece of this and if you don't get this right, I'm going to be honest with you, it doesn't make a hill of beans difference if you do everything else we've talked about, you're going to have disastrous results.
See, this is where this black line comes in here. I have to square this line up with impact, or I'm going to have really bad results.
You see when I open my body and I create a bunch of lag, what most people will do is they'll get this club from the inside, but the face will be wide open.
You see if I had a golf club and I was doing this, my face would like this. I'm squaring it up from the inside and that face is pointing way over there somewhere.
Now when I do that, I'm either going to hit it a mile to the right or I'm instinctively going to start coming over the top to avoid going to the right and getting everything going more to the left. That's going to be a big slice.
You're either going to get weak shots to the right or big slices. The reason you haven't been able to get this move down and that release that lag, that releasing in front, is because of this black line in squaring that up.
So what you want to do is as you start down, you're going to open up your body. You're going to have this club lagging behind, but as you come into contact instead of having this line this way, you're going to square that line up.
Imagine this being perpendicular to the golf ball. I'm going to have a little forward shaft lean. Instead of having the club like this line back, I'm going to rotate my hands until that line's square.
Now my club face is square, and now I'm going to be able to hit that power draw and really release that club out in front. It's going to be easy.
I go over exactly how to do that in The Move section of the Top Speed Golf System. So if you've been struggling with that inside move, you've been struggling with squaring up the face, that's where you want to go after here.
See, this is going to give you a fantastic sensation. Everybody that I have do this drill gets a lot of lag, and after a few throws, starts getting that ball releasing there instead of there, but they don't learn to square up the face.
You have to put both those things together or you'll basically struggle with this move forever.
After you get done with this video, after you try out that drill, head on over to The Move section. Go to the Top Speed Golf website, click on the Instruction tab, Top Speed Golf System, Move section.
Once you go there, just follow that handful of drills, and you'll finally put this missing link to getting your swing to look just like the pros.
Best of luck, and I'll see you in The Move.