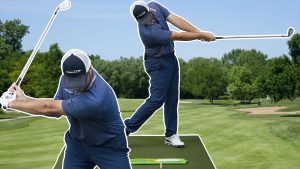 Why You Need This: Today, you'll discover "Do This For 10 Minutes & You'll Be Better at Golf | GUARANTEED!"
What if I told you that I could guarantee you'll be a better golfer in the next 10 minutes?
Sounds crazy, right?
But, it's not…
The only hint I'll give you is that I'm going to focus on the most important section of your swing…
...and you're going to pick up some subtle movements that you're most likely missing in your swing right now.
...that, once you nail down, will have you hitting the ball first and making those nice, clean divots in front of the ball.
10 minutes seems like a small price to pay for better golf, right?!
Golf Pros Featured:
Instructors Featured: Clay Ballard
Video Duration: 7:52
Watch This Video Now!
Normally, this video in our step-by-step, course-based training is only available to our All Access Members...
But I'll let you watch this ONE video today only... because I can already tell I'm going to like you !