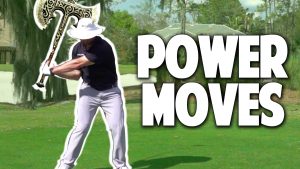 Why You Need This: Today, you'll discover how to "Create Effortless Power in the Golf Swing With These Moves"
Can you imagine how much more powerful would you feel…
…if you could hit a golf ball with the same effort you give swinging an axe?
The natural tendency you have to swing an axe with a TON of lag…
…can be applied to the golf swing by using two small adjustments.
In today's video, you'll discover what these two adjustments are…
..and how to get them into YOUR swing.
After this, don't be surprised if you feel a little like Paul Bunyan the next time you hit the course!
Golf Pros Featured:
Instructors Featured: Clay Ballard
Video Duration: 6:55
Watch This Video Now!
Normally, this video in our step-by-step, course-based training is only available to our All Access Members...
But I'll let you watch this ONE video today only... because I can already tell I'm going to like you !

Video Transcription:
Clay Ballard: What if I told you you're actually more powerful, you can create more lag, more club head speed than you ever realized you could? Let me give you an example of how powerful you could feel in the golf swing.
Now if I told you to set up to this golf ball and swing this club like an axe, and you're just going to take it over your shoulder, and you're going to swing this club down, you're just going to snap the club off right into the ground, I bet you'd feel pretty dag-gone powerful.
I also bet you would have tons of lag. I wouldn't see anybody that swung an axe that went like this and casted it and then swung down, it would never happen. Right?
You know how to get that angle of lag, you know how to get that leverage and make that club really release. It wouldn't take hardly any power at all and you could easily just snap that club shaft off in the ground.
If you don't believe me, grab a club right now and don't swing it that way, because you will break the club and you probably will hurt yourself if you do that. But that's the kind of power that you could tap into.
In this video, I'm going to tell you how to get that same feeling, to have tons of lag, to feel as powerful as you did there, but we're going to have that nice, tight draw for it to be really solid.
Without very much strength or size, you're going to be out-driving your playing partners. Let's go ahead and get started.
All right, so let's roll with this axe analogy, because it really is much more similar to a golf swing than we think.
Now, if you were to do that and you were to swing down on this club, that's kind of how everybody really starts playing golf because it does feel pretty powerful.
So if I start playing golf, I start over the top, I'm swinging down like an axe way across it, and that ball starts to slice way off to the right.
Even though we feel like we're swinging hard, that ball's just not giving us very good feedback, it's not going where we want it to go.
Well, that same analogy isn't too bad, we just have it in the wrong direction. We need to change that swing direction from chopping across the ball to being much more from the inside.
Here's what I want you to do to feel this. I want you to set up this golf ball, and if my feet were kind of toward my target, I want you to swing instead of down my feet, I want you to swing actually 45° to the right.
So if you were to take that same axe, I want you to swing down this way so the butt end of the club would be facing toward the golf ball. If you were to let go of this club, it would slam into the ground looking something like that.
I'm basically swinging directly over top of these houses here, just 45° out to the right. Now, it would probably feel pretty powerful.
A little awkward because you're well from the inside, but I bet you feel like again, you could slam this club down into the ground with a lot of speed and lot of power, and you wouldn't have to be that strong to do that.
The obvious question is, all right Clay, I guess that's kind of neat, but I'm going to hit it a mile to the right. How is this applicable to my golf game?
Well, you're only missing one piece there. As soon as I start to open my body, that gets that club back on plane.
So if I swing and I'm just going to slam this club in the ground, what happens when I start to open my body up? Now all of a sudden, I look like a Tour player, right?
My hips are open, my body's leading the way, the club's coming from the inside, all this good stuff is happening that I've always wanted to happen in my swing, and it looks just like what you'd see with a Tour player.
So go ahead, I'll have this same feeling here that I just described to you. Swinging 45° to the right, and then just letting my body open up. Let's go ahead and try that out and see what it looks like.
There we go, hammered that one. Right down the middle of the fairway. I felt like I had a lot of club head speed and I didn't feel like I had to put out that much effort. It felt very powerful like I was chopping with that axe.
Now one of the reasons that this works to get that effortless club head speed, is that when the club comes from the inside like this, if I keep everything moving back into to the left -- and you'll hear Ben Hogan talked about this a lot -- moving the hands back up and in to the left.
My hands and my body are moving this way. I'm opening everything up and all my momentum is going that way. Well, that can only work if I'm from the inside already.
I'm letting that club from the inside, as I turn back into the left, that flings the club out toward the golf ball and it creates a lot of momentum there.
So you really don't feel like you have to swing out to the right, that club's momentum is going to happen that way whenever you just open up the body.
Now the second piece of this would be the club face. Now we've got the club coming from the inside, the momentum is kicking it out, you're getting a lot of club head speed, that inside-out swing path.
If you're still hitting a little straight, so it's kind of going right, it's wanting to draw back but it's not quite drawing back, there's a little trick you can do with your hands to get this club face to square up very easily.
I go over that in The Move section, but quickly here, when you rotate your hand more this way, this is closing the face, when you rotate your wrist this way, this is opening the face.
So as you're making this downswing trick, this downswing feeling like you're going to swing from the inside and rotate open, I want to make sure that my face is squaring up, so I'm going to feel like my face is down to the ground as I'm doing that.
That's what you see with guys like Brooks Koepka and Dustin Johnson, to really get that club squaring up early and that's really going to make it almost foolproof to get the ball drawing back to the right.
So golf can be a lot simpler. You can have some power, all you need to do is feel like you're throwing the club from the inside.
If you do that, you can rotate open as hard as you want to, and that club is still going to sling out and square up just like you see the top pros doing that.
Then if you rotate your wrists a little bit more as you're doing that, that's going to square the face for you. It can really be that simple. You follow those three things.
Throw it from the inside, rotate open as much as you want, and square up the face, it doesn't get much easier than that if you want to hit it really far and really straight.
Now, this is the exact same thing that we talk about and what we call The Move in the Top Speed Golf System.
So if you click on the Instruction tab, go to the Top Speed Golf System, then The Move, this is what we do in there to ingrain this.
This is the same motion that we're talking about there. Shallowing that club out, getting it from the inside so that you can really have that nice, tight draw like everybody wants to have.
So once you're done with this video, what I want you to do is go over to The Move section and work through those drills there.
As you go through those, it's going to build on what we talked about here so that you can ingrain it forever.
A swing tip doesn't do you any good if you go out and you're absolutely just killing it and hitting it the best you have in your life, and then the next day it leaves you.
We need to take that good ball-striking session from today and build on that with a handful of more drills as you really ingrain that, that gets to where you can have it forever.
That way you can feel really powerful all the time and you could be out-driving your buddies very easily.
So once you finish this video, go over to The Move section, work through those drills, and I promise you, you're going to be glad that you did.
I'll see you there.