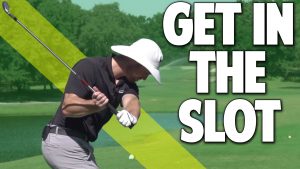 Why You Need This: Today you'll get the "Best Drill to Shallow the Club and Get in the Slot"
If you struggle to shallow the club...
...and instead your trail hand gets too involved and causes you to cast the club early in the downswing...
...then today's drill is perfect for you.
You'll get 2 simple keys that will make it nearly impossible to NOT be "in the slot" in the downswing...
...and will give you more speed in your swing from the "slingshot effect" it creates.
This is one you don't want to miss...
Golf Pros Featured:
Instructors Featured: Clay Ballard
Video Duration: 7:29
Watch This Video Now!
Normally, this video in our step-by-step, course-based training is only available to our All Access Members...
But I'll let you watch this ONE video today only... because I can already tell I'm going to like you !

Video Transcription:
Clay Ballard: Let me ask you something. Do you struggle to get that club shallowed out? You feel like your swing is steep, you're coming over the top and then all of a sudden you have to kind of back out of it and flip it at the bottom?
Don't you wish you could get that club to be nice and shallow, and in the slot from the inside, just like you see all the pros doing?
Well, there's one drill that can make that really, really, really easy. I'm going to go over that with you step-by-step today.
It almost makes it impossible if you do this drill the way that I say to not get that club shallowed out. The coolest thing about this, is once we get it shallowed out, I'm going to talk about how to create a really easy swing speed.
So as long as you keep rotating on through, you're going to feel like your club takes off like a sling shot coming through contact and you get a lot more distance, too.
I can't wait to share this drill with you. Let's go ahead and get started.
All right, so what we're going to do, and you may have seen me do something similar to this before, but this is a great drill and a couple key things here.
A lot of people do this drill but they don't do it the right way. I'm going to show you a couple key things. You follow that, you're going to have great success with this one.
We're going to go ahead and take our normal grip. I'm going to slide my right hand though, down to where half of my hand is on the grip, half of my hand is on the club shaft.
So I'm really choking up there a lot. Then my left is just normal grip, so I'm holding it the way I normally wood, I just split my hands apart.
Now in the downswing, if I'm coming over the top or I'm getting steep, what's happening here is my right hand is wanting to push out this way.
So it's my right hand dominating this, it's throwing the club this way. It's trying to, if you're looking from this angle, cast that club out a little bit.
It feels very powerful. This right hand wants to hit because that's what the right hand likes to do. But in reality, what we want that thing to do is to shallow out from the inside, and to save that hit through contact.
That's the biggest thing that I can help you with here, is getting rid of the idea that this right hand wants to hit up here to create speed. It doesn't.
This actually slows your speed down, because what you end up doing is accelerating the club too much back here, and by the time you get to impact you have nothing left.
So your club goes really, really fast and then it slows down and you feel like it's not in sync, it's not powerful through contact, and your contact gets all messy, too.
Where we get the right idea is if we can have this club shallow out and then as I come through contact, then it's going to accelerate and it's going to take off through there.
Let me explain exactly how that happens. So with my right-hand hit swing, I'm going to feel a couple things.
Number one, I'm going to feel my right hand tighten up and kind of push this club at the start of the swing. So you can really feel this when you split your hands because you can tell which hand's doing what.
Now my right hand wants to push out this way and that's where that cast starts to come from. Also, my right elbow wants to start to straighten up a little bit and kind of throw that club that way.
Well, what I want to have happen is if I'm looking from this down-the-line view, now all I have to do is separate my hands and there's one simple fix for that.
Whenever I push with my right hand or I kind of throw the club with my wrist, look how my right hand starts to come outside my left hand.
All I need to do to have a great golf swing is to keep my right hand on this side of my left hand when I'm doing this drill. That's going to get me in the slot.
There's really nothing else to it other than that. I split those hands, I keep my right hand behind my left hand, and all the way down, even as I'm down here when my club's parallel to the ground, I want my right hand slightly on this side of my left hand.
If I'm seeing this, no good. I'm dipping the shaft early, I'm losing compression. I want to keep that right hand behind.
Then from here what's going to happen, is now where this club's inside, it's coming from the slot, if I turn back left as hard as I can, that's going to sling the club out to the right.
So as long as this club stays in the slot and stays inside, as I open my body what happens is my hand turns the corner and you can see how this just whips the club through contact.
As my left with this club inside starts to turn the corner and come back up this way, it creates a sling shot of the club.
You can see how my club is wanting to fly from the inside out, through the golf ball, nice tight draw pattern. That's all I have to do.
If I want to hit it even harder, I want to make sure that I don't get stuck, then all I've got to do is turn even more.
You really can't get stuck from this position because once the club's inside, the harder I turn the more it throws the club back out front.
The stuck position comes from this. My right hand gets here, and as I try to rotate forward and I pull this hand forward, the club wants to fly back that way.
So that's really the key. Right hand to the inside, now I'm in a great position as I turn, turn, turn, that flings the club out and keeps it from getting stuck.
If I'm here, as I turn, turn, turn, that flings the club in, it gets stuck. It feels like I'm a mile to the right. That's that shot that goes years to the right, way out of bounds, very, very frustrating.
So again, this drill is what we've got to do. Split-hand grip. I want to keep my right hand on this side of my left hand all the way down till last parallel.
Then from there, I'm going to rotate through the shot as hard as I can. As my body turns to the left, it slings the club out to the right creating that whip-like action.
So think of it like Sergio Garcia. That's exactly what he's doing there, and that's one of the reasons that year in and year out he is head and shoulders above most of the ball strikers on the PGA Tour. But to be honest, all the guys on the PGA Tour are doing something very, very similar to this.
Let's go ahead and give that a whirl here. I'm going to hit this iron, and I'm going to go ahead and feel like my right hand stays inside my left hand. I'm going to rotate like heck, and I'm still going to get a nice little tight draw.
There we go, hit that one well. A nice little draw, just be kind of right-center of the green if there's a green up there, I'm just hitting in the fairway. Really solid contact.
Now in this video, what we talked about here is we talked a lot about how the momentum of the shaft and the momentum of the club is working.
So even when I'm here at last parallel, I'm going to feel like my club's from the inside, so as I turned back to the left it kicks the shaft out.
But what about the club face? I want to make sure that my club face is also squaring up early, turning and releasing. That's something I go over in The Move section.
I have a video there called The Tennis Racket Drill, where when I get my club to this position, the real key here is I don't want to have this face open.
I could be in a great position like this, but if my face is open, I'm going to hit shots to the right. I need to go ahead and square that face up by bowing my left wrist, turning this face down to the ground.
That's going to allow it as I turn on through, that club kicks out and I get that nice tight draw every single time.
So once you do the drills in this video, don't stop here. Really ingrain this motion for a lifetime by going through The Move section.
Go to the Top Speed Golf Instruction tab at the top of the Top Speed Golf home screen. Then go to the TSG System, then go to The Move section.
From there, follow through those drills. There's only a handful of drills there, and once you get those down, we're going to be able to pair up what we talked about here today with not only the body motion and the momentum of the club, but also how to square up that face so you have complete face control.
So if you do that, go there, work through those drills, I guarantee you it's going to pay dividends for a long time.
It's just a whole heck of a lot of fun when you can get tons of club head speed and really get that nice, crisp, solid sound when you're hitting the golf ball.
Best of luck, and I'll see you in The Move next.