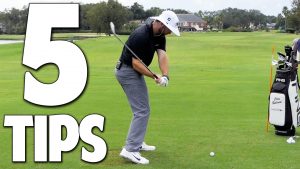 Why You Need This: Today, you'll discover, "5 Tips to Hit Your Irons Pure and Straight."
If you tend to stand up and flip the club in the downswing...
...it's causing two HUGE problems for you (and probably ruining rounds).
In today's video, I'll discuss what these two issues are…
...along with the only tips you'll ever need to start making solid and consistent ball contact.
Those rounds don't have to get ruined anymore…
...and golf will be a LOT more fun!
Golf Pros Featured:
Instructors Featured: Clay Ballard
Video Duration: 12:16
Watch This Video Now!
Normally, this video in our step-by-step, course-based training is only available to our All Access Members...
But I'll let you watch this ONE video today only... because I can already tell I'm going to like you !

Video Transcription:
Clay Ballard: Now most players I see tend to stand up and kind of flip at the ball like this. It causes two very big problems.
Number one, as I stand up and throw, I'm getting farther away from this golf ball. I also tend to lean back a little bit. It causes a huge contact problem.
You see it's going to want me to almost hit behind the golf ball a little bit and if I happen to not hit behind, where I'm kind of throwing the club at the ball, I don't have very much forward shaft lean.
When I don't have very much forward lean, the leading edge of the club starts to come up off the ground. So I'm going to hit everything thing.
It's basically this endless battle of hitting thin shots and heavy shots. Thin shots, and heavy shots. It has nothing to do with where you're hitting the ground, it has more to do with how you're moving your body.
So what I want to do, is I want to make sure that I go ahead and get actually closer to the ground, cover the golf ball, and then stay in my posture.
Now there's a great way to do this, and I call it the Stable Fluid Spine. So what I'm doing here, and I'm going to give you a great way to measure this actually, too.
So I'm going to start off with one of these sticks through my belt loops. As I set up at address, I actually want to be tilted slightly away from the target.
If I take this other stick, kind of have it representing my spine angle, I'm going to go ahead and bump my hips forward and tilt my shoulders back a little bit until I'm in what's good posture, what all pros will be doing as they set up, pretty much.
Now from there, I'm slightly behind the golf ball here. That makes it easier for me to come through this shot from the inside, stay down, clear out of the way just like you're seeing with those pros.
If I'm very vertical, now all of a sudden, I want to kind of stand up and throw. I get tilted, I can get opening and I can release that club out in front.
Now that's one way to check that. I'm going to put this club straight up and down on this alignment stick. I'm going to tilt my body until that club hits the inside of my left leg. I should feel a little bit more weight on my right side getting it there very early.
The second piece here is when I come to contact, if I'm standing up early, I'm going to do this and you're going to see my club on my shoulders as already starting to want to hit this bottom stick when they're way back here.
They're almost still pointing toward that camera back there. They're going to want to hit each other. If I do this properly, and I stay in my posture, my shoulder stick isn't going to catch up to my hip stick until up here.
I'm going to be having these sticks almost point toward the golf ball, this direction toward this camera, before the shoulder stick actually hits the hip stick.
If I do that, then I'm in a great position. I can hit some really, really solid golf shots. So that's piece number one. You really have to be having your shoulders and your body work properly.
Let me do that same thing here, and I'll just go ahead and hit one. You'll see how my divot is going to be nice and clean, and I'm not going to hit way behind this golf ball, because my hips and body are working properly.
Little bit of tilt at address, and then from there, I'm going to feel like my body stays down, and my hips stay in their posture, or my shoulders stay in their posture as I come through contact. Let's try that out.
There we go, nice and solid. There, even though I didn't catch as much turf as I'd like, I'd like to hit a little bit more on there, because I had good shaft lean, because I stayed in my posture, that was still a really nice, solid shot even though it was slightly thin.
If I would have been standing up out of my posture, that ball would have gone 20 yards shorter, I really would have been not very good, solid strike.
Even on your miss hits, these are going to be better which is kind of the whole point of this. When you hit a bad shot, it's still pretty good.
Let's go ahead and try one more here, get a little tilt, stay in my posture all the way through contact. There we go, nice and solid there.
Again, just a slight divot. It's a little fluffy ground, so you're not going to take a big divot here. Nice and solid.
Now, once we're doing that, let's go ahead and add a little power to it. I'm going to take that stick again, and all I want to do is put it across my shoulders, and I want to make sure in my backswing I loosen my legs up a little bit so that I can get a good, full turn.
Now I'm going to get this stick behind the golf ball on my backswing. If I flip it over the other way, I'm going to get it all the way down the fairway, or as far down the fairway, again loosen my feet up, let them rotate as I can in the follow through.
Once I do that, I'm going to start having some more power with this. So number one, stay in my posture so I can hit it solid.
Number two, let's get loaded up well so that we can have some good speed and some good power as we're hitting these shots. Let's go ahead and give that a whirl.
There we go, nice and solid. Pretty long shot with an iron, I got a 7 iron here. That's probably going somewhere around 185 today and nice and solid, because I'm winding up pretty well there.
Now the third piece is lag. Here's a great drill for having lag. These five pieces I'm going over, these five fundamentals, are the five fundamentals of the Top Speed Golf System.
This is what I base all my teaching methodology off of. This is what makes playing golf really easy. You don't have to worry about a hundred things.
Get these five things right, and you're going to have a great time on the golf course. You're going to hit some great shots.
Now I want to go ahead and hold this stick down here like this in the backwards position. What I want to feel like I'm doing is if I had my golf club, I'd be holding it like this, going out that end of the golf club.
In my downswing, again, I want to get this as close to the ground as I can. I want to feel like my hands get as low as possible and this is still pointing behind the golf ball.
Once I get to the golf ball, tons of lag, I go ahead and release it as fast as I can. So I'm going to feel that same thing without a club a few swings.
So I'm going to hold it like this, I'm going to feel like my hands get close to the ground, that stays behind the golf ball. Tracing down that target line, if we're looking down the line view.
Then from there, once it gets to the golf ball, I go ahead and smack myself in the side as quickly as I can. Don't do it too hard, you can hurt your ribs there a little bit, but you just want to go ahead and do that really fast.
Now that lag, the reason that lag is so important, is because I'm saving that hit until late in the swing. I'm saving up all that potential energy until late in the swing and then bam, I'm letting it go.
I'm getting all that speed at contact instead of casting back up here letting that club release and then having nothing left for the hit down at the bottom.
So I'm going to feel like I'm getting that stick behind the golf ball, and now I'm not going to release that until the last second, then I'm really going to let it fly.
There we go. Had a little speed to that one, that one went a long way. Had a nice sound to it. As I started to ramp up the speed, it starts feeling even better.
Now the fourth piece is what I call the Straight Line Release, and that ties in exactly with what we just talked about.
So even if you have all the lag in the world, it's not going to do you any good if I don't get rid of it. So the lag creates speed because it saves up this big angle in the downswing, and then you release that through contact.
If I was to grab my club kind of halfway up the shaft, as I start to come down, that should be leading in front of my hands again, just like that stick pointing behind the golf ball.
Then I'm going to release that and it's only going to split my forearms for the very first time up here past contact. Now you can see how it's splitting my forearms.
That's exactly how I want it to happen in the golf swing. I'm opening my body, one of the reasons that we tilted back like that was this reason.
I'm opening my body and I'm releasing that club out in front toward the target. So let's go ahead and try that out here. I'm going to feel like I really let that club release out in front.
I could even put a golf ball about four to five feet in front of my golf ball that I'm hitting, down the target line, and I'm going to feel like I release my club toward that golf ball.
So let's go ahead and try that out. So I'm not releasing it at my ball I'm hitting, I'm releasing it up here toward the ball that's out in front.
There we go, dead straight, really nicely hit shot. Doing my practice of my fundamentals, just like everybody else.
Now that was your four pieces. There's a fifth piece, though, that's extremely important. This has to do with your weight shift and how you can get the contact point correct at the bottom of the swing.
See, there's two different types of players that struggle with solid contact. Player number one tends to fall back, so the momentum of the body is falling back this way in the downswing.
They barely miss out from grounding out back here and kind of flip to barely hit that ball a little bit thin. That's going to cause a lot of chunks and thin shots.
Now player number two that struggles with ground contact actually does the opposite of that a little bit. They get too far in front, this left shoulder gets in front of their left ankle.
So if I was to draw a line down from this, it's actually outside of my ankle, and I'm going to chop down into the golf ball too much.
That causes a lot of inconsistency too, because this club's coming down on such a steep angle of attack, you have to just be really precise with it.
So here's what I want to feel. Number one, I want to tilt like we talked about at address. That's going to get me behind the golf ball slightly.
Number two, now in my downswing, I'm going to keep that slight tilt but I'm going to let my weight shift to my front side. So I'm on my front foot, but my upper body is leaning back.
That's if you watch pro players, watch them at contact, every single one of them is tilted away from the target with their weight moving to the left.
I call this the Compression Line, helps you compress the golf ball. So I want to be angled back, but my weight is moving to the left.
If I drew a line from the center of my ankle, it would run up through the center of my hip and the center of my shoulder, and that would either be with the short iron, right over top of my ankle, or slightly behind it.
It would never be in front of it and it would never be falling back this way. It's going to be almost right over top of that ankle, but just slightly, slightly behind.
When I do that properly, that allows me to get a really clean strike, time and time again. There we go, hit that one great. So it's that tilted away as you're coming through that allows you to tie that together and get that extreme consistency.
If you look at that pro players, like I said, look at every single one of them, they all look the same at contact. They're all tilted away like that.
Now, all five pieces are going to help you to play some great golf. The problem that I see, where most players go wrong, is not that they can't do these things, it's that there's information overwhelm.
As soon as you get off this video talking about the five things that really matter here, you're going to bounce around to some other videos. You're going to see other things that we're talking about.
You're going to see golf magazines. You're going to watch golf on TV and they're going to be talking about all kinds of stuff.
The players that I've found that have tremendous success go over to the Top Speed Golf System. They start right from level one and they start working through those videos.
If you work through those videos, you get better. It's simply just that simple. We have a money back guarantee that guarantees that.
You work through the System, you start doing the drills and you're not getting better? We'll give you a full refund.
Make this challenge today. Go over to level one in the Top Speed Golf System, so click the Instruction tab, Top Speed Golf System, level one.
Do one video, just one, doesn't take hardly any time at all, from each of those five sections. That will keep the ball rolling for what we talked about here today, and that will keep you one step closer to having amazingly solid fundamentals.
To be able to get tremendous amounts of lag, to be able to get that club to release out in front and playing your best golf ever.
So head over to the Top Speed Golf System after this. I can't wait to keep it rolling with you, learn those five fundamentals, have you playing fantastic golf, and make it really easy.
Let's go ahead and get started.