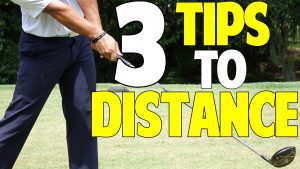 Why You Need This: In this video, you'll learn 3 tips to add distance to your swing.
These tips can help you squeeze out an extra 30 yards on your drives.
First, you'll learn how getting a full Power Turn is key for swing speed and distance.
Many players struggle to make a full 90° turn (or more)...
So tip #2 focuses on how to move your left foot to help you get a bigger turn.
You'll also learn how to transition into your left foot in the downswing for more power.
Third, you'll get a tip on how to use your hands to whip the club through impact.
Watch now to learn 3 great speed tips and start busting out longer drives!
Golf Pros Featured:
Instructors Featured: Robin Rosado
Video Duration: 4:17
Watch This Video Now!
Normally, this video in our step-by-step, course-based training is only available to our All Access Members...
But I'll let you watch this ONE video today only... because I can already tell I'm going to like you !