Links to your video lessons are below.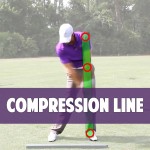 Have you ever heard a dead solid, pure, perfectly compressed golf shot before?
The type of shot that sounds different than 99.9 percent of all the shots you hear.
The type of shot that melts into the face of the club. Perfectly balanced and stable.
If you're like most recreational golfers, you may never have hit one. If you're lucky, you may hit one or two in your life. But the pros hit them every single round.
Although this may feel like an impossible task, it can be done with the correct impact alignments.
So if you're ready to start compressing the golf ball like you never have before, let's get started perfecting the Compression Line.
Course Materials