Links to your video lessons are below.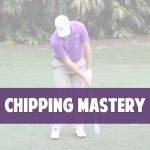 Have you ever been chipping green side in two on an easy par 5, only one stroke behind your biggest opponent? You're one easy chip away from a tap in birdie, and tying the match!
Chunk….
You flub the chip and 3 putt for a BOGEY!!! How could this happen? And like that, you are down another stroke.
In this series we are going to go over how to become a chipping master. Take advantage of the Par 5's and make more birdies when you start chipping it close.
Let's get started…
Course Materials