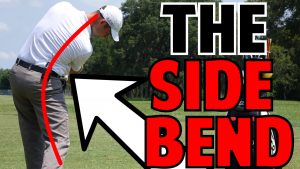 Why You Need This: In this video, you'll discover how side bend is crucial to making a great downswing.
There are two problems that tons of golfers struggle with...
First, most golfers don't get enough forward shaft lean.
Not getting enough shaft lean makes it difficult to compress the ball and get the power you want.
Players on the PGA Tour are delofting their clubs typically around 30 degrees while most amateur golfers struggle to get anything near that—they're flipping and casting the club.
The second problem I often see with golfers is standing up out of their posture.
This contributes to flipping the club for weak contact.
In this video, you'll learn how side bend can help you get more forward shaft lean and will help you stay down in your swing for better posture.
You'll get some great drills to ingrain the proper moves into your swing.
Watch this video to get better compression...
And ultimately better control and contact!
Golf Pros Featured:
Instructors Featured: Clay Ballard
Video Duration: 6:09
Watch This Video Now!
Normally, this video in our step-by-step, course-based training is only available to our All Access Members...
But I'll let you watch this ONE video today only... because I can already tell I'm going to like you !

Video Transcription:
Hey guys, and welcome back. In today's video we're going to talk about two issues that I think tons and tons of golfers have. One of them is not getting enough forward shaft lean, we have to really deloft this club to compress the golf ball.
On average, PGA Tour players are going to be delofting about 30 percent of the loft on the club. So with a pitching wedge, 45° of loft, they're going to be delofting that club down or getting about 15° of forward shaft lean as they're making contact.
In longer clubs, little bit less forward shaft lean, but most of the time I se people really struggling, flipping the club, casting, and not having enough forward shaft lean to compress that golf ball. That's one of the issues that we're going to talk about today.
Another one is standing up out of your posture. As we make the downswing we have a tendency to kind of stand up like this and that also kind of relates in to the flipping.
So side bend, really, really key in both these moves, and I'm going to break it down for you piece by piece and give you some great drills to work on.
First let's start out, we'll talk about forward shaft lean. Now in order to get forward shaft lean, a couple things have to happen. Number one, I need to make sure that my body is working close enough to the ground to where I can have some lag and to release that lag out in front in contact.
In the Top Speed Golf System we talk about how we want to have what's called a straight line release. What this means is, as I make my downswing, I'm getting some lag here. My legs are bent, so if you're looking at my torso, my legs are bent at this point in relationship to my upper body.
My chest is feeling like it's working down to the ground, and now I have a good angle between my wrist and the club, and my hands are kind of working down at this point.
Now from here, I actually want to be working back up. So my left leg is straightening up, my hips are rotating open, my shoulder, my left shoulder is working up, and that gets me in the position where the butt end of this club actually works up as my club releases down and through.
That allows me to release that club out in front, I'm releasing at that 45° angle. So the straight line release is when I'm about 45° past impact with the club shaft, that's the first time it's going to split my forearms.
That's when the club shaft is going to be releasing all those angles between my forearms and my angle in the wrist, and then my chest and everything is going to be out there too.
That's really good, I think we can see all the top players, all the Tour players are really doing a good job of doing that. Well when that left shoulder works up, so again, I'm having some lag.
My left shoulder works up as I start to release that lag. What's going to happen is my right shoulder should work down, and I'm going to have to get some side bend to do this.
If you stand up straight up and down, I want you to go ahead and bend your right shoulder toward the side of your body. That's what's kind of happening as you're coming through contact. This shoulder's working up, and this shoulder's working down. That happens in this portion of the swing.
As I rotate as I'm doing this, you'll see that now I'm tilted sideways, I'm allowed to stay in my posture. So let's take a look at that from this angle.
You'll see that as 'm working into that straight line release here, my shoulder is working down toward the side of my body, and my left shoulder's working up kind of away from my body.
From here now you can see that my shoulders are tilted, this shoulder is feeling like it's pretty close to my side, even though I'm opening up toward the target.
That's brings me to the second piece, is I've got to stay in my posture. A lot of times when we're struggling to be in our posture, we're feeling like we stand up taller, work away from the ball. Our right shoulder gets kind of far away from the ball, and now we're flipping at the golf ball.
I want you guys to go ahead and practice halfway down, and then as I come through the shot, I'm going to feel like I'm doing this. There I'm bending sideways, and then I'm rotating through the shot.
So I'll feel like my left hip is working back out away from the ball, and I'll feel like my right shoulder is kind of working down so that my shoulders stay in posture.
Let me give you a couple good drills, some repetitions to practice as you're doing this. So let's start out by putting the club across our shoulders here. I'm going to start out nice and tall over top of the golf ball. We're not going to worry about swinging the club at this point.
I'm going to get a good, full turn going back. Then here I'm going to feel like my leg is bent, I'm really working down into the ground. This will be when I'm having a lot of lag. I'm exaggerating here a little bit, but we're going to feel this definitely in the swing.
Then as you come through, feel like this left hip turns back out of the way, and my shoulders stay, I get some of that side bend on my right side so that my shoulders stay in their posture and this club is angled down toward the ground.
That's going to be when we're in our straight line release position. Once we've done a few of those, get the overall feel with the body, let's add the club to that.
Now we're going to go to the top of the swing, we're going to get some god lag, and then as I pause in my straight line release, my hip is turned out of the way, my shoulders are still tilted, this is kind of bent sideways to keep in my posture.
I'm going to do about 50 to 100 repetitions, first without a club, then with a club to feel those. Then I'm going to do 50 to 100 repetitions, full practice swing. Don't have to swing very hard, it's just to et comfortable with that motion.
Then once you've done that, you're going to feel pretty comfortable with it.
If we're looking at this from face on, we're going to see these same motions but different check points. So here, I'm getting some lag, legs are bent, chest is working down to the ground. Then as I drive up my legs, my shoulder's turning up, and as I get into that straight line release it's going to look like this.
Naturally, that forward shaft lean, that compression of the golf ball, is just going to happen just because the ball is getting in the way of my release point.
Let's try that out. You're going to see some nice side bend on this one, I'll stay in my posture. Let's go ahead and see if we can hit a pretty good shot.
There we go. Dead straight, right inside the trees, right where I was aiming. Good luck to you guys. Get that side bend down, you're going to compress the ball better, you're going to stay in your posture, and you're going to have a lot more fun playing golf.