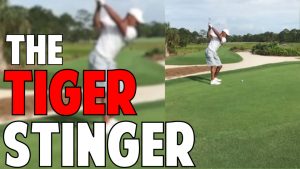 Why You Need This: In this video, you'll learn how to hit the Tiger Stinger in crazy detail.
After watching a video clip of Tiger hitting a 2-iron, one thing's for certain...
His famous Tiger Stinger is always breathtaking to watch.
The ball exploded off the clubface and looked like it traveled knee-high for first 50 yards.
What a shot to have... Facing a lot of wind? No problem, hit the stinger.
Or just hit the stinger because you can. It never hurts to make your golf buddies jealous :)
But how do you hit these super low shots?
Find out in this video...
You'll discover the 2 common mistakes players make when trying to hit the stinger...
And you'll get technique tips to get extra distance on theses shots.
Watch now to smoke super low Tiger Stingers!
Golf Pros Featured: Tiger Woods
Instructors Featured: Clay Ballard
Video Duration: 7:10
Watch This Video Now!
Normally, this video in our step-by-step, course-based training is only available to our All Access Members...
But I'll let you watch this ONE video today only... because I can already tell I'm going to like you !