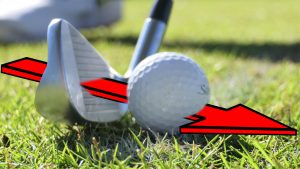 Why You Need This: Today, you'll find out the best way to "Hit the Golf Ball First"
I know how frustrating it can be to struggle to make consistently solid contact with the golf ball.
One hole you're hitting the ball thin, and then a couple holes later you hit one chunky.
But did you know that these inconsistencies can usually boil down to one of two likely culprits in your swing?
Discover what these culprits are, so that you can make sure to eliminate them from your swing!
But don't worry, you won't just find out the "why", you'll also understand "what" you need to do to start ingraining a consistent move on the ball.
After today's video, you'll know:
the role your chest plays in a consistent swing,
the move that pros are making with their hands that most casual golfers aren't, and
where your weight should be at address (probably not where you think)
Golf Pros Featured:
Instructors Featured: Clay Ballard
Video Duration: 12:46
Watch This Video Now!
Normally, this video in our step-by-step, course-based training is only available to our All Access Members...
But I'll let you watch this ONE video today only... because I can already tell I'm going to like you !

Video Transcription:
Hitting behind the ball, that either means thinning the ball where it just kinds of shoots and dribbles across the fairway or into the green. That's embarrassing.
Or flat-out cold chunking the ball. That's probably the most frustrating and the most embarrassing thing you can do in golf.
You make that full swing, you chunk it, it barely just kind of squirts down the fairway, and it is like you just want to break all of your clubs. It's so frustrating when that happens.
So let's talk about what's really going on when you hit behind the golf ball and how to get that divot in front.
I have a very simple work along with you today. Just grab a club right now, let's start to make these swings and if you do what I say here, we're going to be getting that divot in front of the golf ball very, very consistently in just a matter of minutes here.
So grab a club, let's go ahead and get started.
Now if you saw in those last videos the most common thing that I see when someone is hitting behind the golf ball, and if you hit behind the golf ball I almost promise that you're doing at least one if not all of these things.
Commonly what happens is, a player will stand up or lose their posture. So my hips start to go toward the golf ball.
This gets me farther away from the golf ball, and now all of a sudden I feel like I have to kind of flip at it. So I'm reaching to get to the golf ball.
On top of that, the most common pattern with this, is to be falling back on the right side as it's happening.
So I'm standing up, I'm flipping, and I'm falling back on my right foot. That brings my low point down here behind the golf ball.
If you look at this in slow motion, see how my club is actually grounding out behind the golf ball first, that's either going to do one of two things.
You're going to cold chunk it because you're hitting the ground hard enough and it's stopping the club, or you're barely going to miss the ground, your club is going to be on the way up coming into the ball, and you're going to hit a lot of thin shots or you're barely going to have to pick it clean.
A good, sure-fire way of seeing if this is you, do you feel like you have to fluff the ball up on a nice, perfect lie to make good contact? Or can you put the ball down on bare ground and make good contact?
If I have to fluff the ball up, if I'm hitting behind it, this is absolutely what's going on.
So let's break it down into three pieces. The first one being the standing up. Now what happens when I stand up, usually what's going on here is that I feel like I need to make room to throw my hands at it.
So we have to used to the hands actually being closer to the ground which is the second thing that we'll work on here, but I want to cover the golf ball.
You hear pros talk about it all the time, I'm going to talk about exactly what this is. When I cover the golf ball, what's happening here is my upper body is staying down, so my chest is more facing toward the ground rather than doing this and coming away from it.
My hips are staying back and I'm clearing out of the way. Now what that allows me to do, is get my weight in front, get this forward shaft lean to the club, and when I have this shaft leaning forward, I can hit the ball first and then the ground.
That gives me a lot of consistency. Mainly because, or one of the reason is, because if I have this shaft leaning back, you'll see how I'm going to make contact more toward the bottom of the golf club.
As I lean the shaft farther and farther forward, you can see how now that brings the contact point up the face.
So I can now come down, I don't have to be as precise, and I'm going to hit a little higher on the face more toward the sweet spot, even if I don't touch the ground at all.
If I'm flipping standing up, then I'm going to hit behind it. So here's what I want you to do for this drill.
Drop the club for a second, let's do about 20 reps putting your arms out to the sides of your body, and then as you're going to rotate back, make a good, full rotation going back, and I'm keeping my arms kind of pointing down to this golf ball.
Then as I come down, here's my downswing, here's halfway down, and here's contact. When I'm about 45° open. Notice how I'm still down in my posture, everything's coming down. That would be contact.
If I grab this club again, let me go ahead and rest it here. Here's my contact position, hips, shoulders, arms, everything open 45°.
Now all I have to do, because I've stayed in my posture, is grab this golf club, put it on the golf ball, and you'll notice how everything's in a very pro-like position, what you'd see on the PGA Tour.
Everything's open, club shaft leaning forward, very easy hitting this golf ball. So 20 reps coming back and through, pausing at contact, and then coming all the way around to a good, full finish.
It's going to look something like this. Keep my arms pointing down, there's contact, I get that feeling of what my body would feel like, and then I'm coming all the way through.
So 20 reps of that, then grab a club. The fact that you're tilting forward, I'm not doing this, I don't want to see this coming up out of my posture.
The fact that my arms are staying tilted down, my shoulder's staying tilted down, that helps keep me in my posture.
So 20 reps of that, then I'm ready to go ahead and grab a golf club, and make a swing. There we go, so we can see that one, I brushed a little bit of grass in front of the golf ball, made sure I took a little bit of divot there, but we're seeing nice and clean.
Good distance with that 4 iron, nice and straight too. So even though I hit the ground, it was in front of the golf ball. I have this white line here, so it makes it easier to see where that contact is happening.
Let's go on to the next piece. Now we're in our posture a little bit, that takes care of the standing up. Now let's work on the flipping.
When you're hitting behind the golf ball, a lot of times what's going on there – get a little bit lower, don't want to cheat here – a lot of times what's going on, I stand up and I flip, meaning I'm scooping these hands.
That's in effort to hit the golf ball a little harder, or to get a little higher in the air. Either way, what pros are doing, is they're getting their hands actually closer to the ground. I'm going to exaggerate here.
Imagine that I'm making my downswing, and my hands scrape the ground. We're going to see this club already on the turf here, and as my hands move up, the club could glide level for a very long period of time.
You call that a flat spot, or I call that impact glide. What that means is, the best players in the world, and you'll see with this divot is nice and thin.
I'm not chopping down in the ground, that means if I get my hands low enough coming into contact, my hands can move up, and my club is going to glide through the turf.
If I'm staying back and I'm flipping, my hands are high and now I have to throw the club head down at the ball and it's going to be a very kind of v-shaped divot.
Impact glide or having those hands low as my hands work back up, and again my body gets opening up like we just worked on, now that club can glide through the turf. So again, another 20 reps.
Here's what we're going to practice. Number one, get those hands as low as you can as they're in front of your right leg.
Then from there, feel like you're going to have the hands raise up and hit that divot in front of the golf ball, just like that. So I'll do about 5 or 10 practices swings here, or show you a few practice swings.
I want it to look just like that. You can feel how your club just brushes the turf rather than slamming down into it.
So 20 reps of that, get the hands as low as you can, brush the turf -- sorry my watch is going off on me here -- so my hands are as low as I can, I'm brushing the turf as I come through, and we're going to see that divot in front again.
Nice forward shaft lean. Even there, even though I didn't quite hit enough ground, I brushed the turf, but where I was gliding through contact you really don't see any difference.
The shot came out just as good even though I hit it a little bit thin for myself, speaking for myself. I could have taken a little bit more turf and it would have been even better.
But again, you have that forgiveness, you have that consistency. If my hands are high, there's no way to reach this golf ball without flipping.
If my hands are lower, you see my hands come down, now I get that forward shaft lean. So it's really crucial to work on getting your hands lower. Finally here, let's work on getting your weight to the left.
The biggest mistake I see with this, everybody wants their weight more to the left side, so they pre-set it to the left, and I hear a lot of players or a lot of coaches telling players if you're struggling getting to the left, set up with your weight on your left side.
What I found happens when we do this, is as we make our backswing, we realize I'm too far left now.
I've got my weight on my left side, I'm way left over here, and I know if I swing down I'm just going to chop into that ball.
So your body being pretty smart realizes I've got to go back to the right and you end up falling back. Again, it looks something like this.
As you make your backswing too far left, and then you fall back stand up and flip. Obviously, we don't want that to happen, it's not going to be as consistent.
What I want you to do is actually start out with your weight on your right foot and specifically on the inside of the right foot before you even swing.
So I don't want it to be way out here on the outside of the foot, I want it to feel like the inside, like almost like I'm gripping with the inside cleats, I'm kind of digging those into the ground a little bit.
That's going to put some pressure on my right foot. As I make my takeaway, then my pressure's going to get as far as it can on the right side, or as far as it will in the swing.
What I mean by this is when players are messing this up, they're too far left to start, and they don't get the weight to the right side. Then in the downswing, they adjust and fall back.
Here's the thing that's going to solve that for you. We need to get the weight to the right much earlier, and then we need to start going to the left much earlier in the downswing.
So when we look at pressure plates, shows the foot pressure with the world's best players, what we find time and time again, is that the best players in the world max out pressure into the right foot very early in the backswing.
You're pretty much maxed out by the time your left arm reaches parallel with the ground. As they complete their swing, now I'm going to the left.
So here's the right way to do that. I'm going to do a follow-along for you. Number one, set up with that weight inside of your right foot at address.
As you do your takeaway, push the right foot very slightly into the ground. Now from here, get your weight back to the left and then swing down.
Now that sounds really complicated that's why there's a great drill that's going to make you do this every single time, a little step drill.
All you're going to do here is as you make your takeaway, lift up your left foot, just very slightly off the ground. Then, push into your left foot and swing down. So it looks like this.
I'm going to start with my feet a little closer together. I lift my foot to start, that gets all my weight on my right side, 100 percent of the weight on the right side.
As I push into the ground before I start my downswing, now my weight's back left, just like I want it to be. Then when I finish, I finish with my weight on my left side. So if I do that, it looks like this.
Early step, push, then swing down. A good 20 reps of that. Step early, push into the ground, then swing down. As I make that one fluid motion it looks like this.
You can see how my weight easily moves from right to left. So my weight is moving to the left as I hit this golf ball. You do that drill 20, 30 times, it's going to feel very natural.
The biggest mistake I see is players waiting to take their step until the downswing. That's not what we want.
We want to take this step, push to the left, then take the downswing, just like you're throwing a baseball. I step, weight's left, then I throw.
So do that 20 times, get that rhythm, and finally, we're going to be able to take this nice divot in front of the golf ball again, really hit this clean.
There we go, and I really tried to exaggerate even hitting down a little bit more into that one, but you'll see how it didn't dig. It's a nice, thin square divot.
I could hit the ground pretty hard, and I made sure I'm making ball-first contact every single time.
All right, so what do we do from here? Now one of the things that I talked about is the Straight-Line Release.
That's kind of what we're really trying to do here.
We're trying to get this club lagging behind like we talk about in the Lag section of the Top Speed Golf System, and then we're trying to get that to have the shaft leaning forward and releasing in front of the golf ball rather than kind of standing up and flipping with the shaft leaning back at impact.
That's exactly what the straight-line release program teaches. If you start from level one, do those drills, build into level two and level three, it becomes ingrained.
It becomes automatic. It gets to where you just grab a golf club and your very first swing, you're hitting with a divot in front, you're releasing the club in front, because you've done the groundwork that's actually fun and easy to do to make that happen.
So jump into the Straight-Line Release right now, start working through those drills. I can't wait to see you there, and I can't wait to see just how much your swing changes over the next few days.