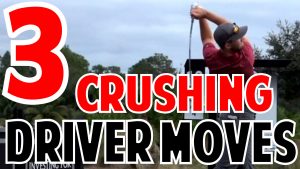 Why You Need This: In this video, you get a cool Patrick Rodgers swing analysis.
He's one of the most powerful players on tour...
And you'll learn his 3 key power moves so you can start smoking your drives!
You'll also get a great tip to reduce hip pain.
First, you'll see Patrick's takeaway.
He almost has backward shaft lean at setup.
You don't see this very often, but it's perfectly OK because he sets his wrists and club nicely in the downswing.
And that brings us to the first power move...
Power Move #1
Patrick does a tremendous job at creating Top Speed Lag.
He uses soft hands and wrists for a long backswing.
Setting the club late in the swing helps him create lag in the downswing.
Golfers that struggle to get distance tend to set the club way too early which makes it tough to build lag.
Power Move #2
Patrick has a great "Compression Line," as I call it, in the downswing.
He leans back more than the typical player.
As you'll see in the video, I draw a line through his left ankle through to his shoulder that has an angle of 12 degrees.
This helps him launch the ball extremely high.
Also note that Patrick's left hip socket is slightly behind the Compression Line.
I love this.
That reduces a lot of the lower back strain that most golfers struggle with.
If your hips bump forward of the Compression Line, don't be surprised if you have a bunch of hip and back pain.
Power Move #3
Next, you'll see how Patrick uses his legs to generate power.
He pushes down and out.
This helps open his hips in the downswing.
Watch now to see this Patrick Rodgers swing analysis and his key power moves...
Put these moves into your own swing...
And start driving it longer and safer!
Golf Pros Featured: Patrick Rodgers
Instructors Featured: Clay Ballard
Video Duration: 6:14
Watch This Video Now!
Normally, this video in our step-by-step, course-based training is only available to our All Access Members...
But I'll let you watch this ONE video today only... because I can already tell I'm going to like you !

Video Transcription:
Hi guys, and welcome back to Top Speed Golf. In today's video we're going to take a look at Patrick Rodgers, on of the most powerful players on the PGA Tour.
We're going to talk about some of his keys to distance. For those of you who are struggling with distance, this is going to be a great benefit to you.
We're also going to talk about if you're struggling with hip pain, if you feel like that you're not really getting that acceleration coming through the ball like that club is whipping through impact, this is really going to help you out too.
Let's go ahead and get started.
All right, so let's start with his takeaway, and it's something that's fairly unique with Patrick Rodgers swing, is that as he sets up to the golf ball, we almost have a little bit of a reverse forward shaft lean, or backward shaft lean.
If you look at the left arm, left forearm, in relationship to the club, then you're seeing that he's almost got it leaned back a little bit. That's not all that common, but it's completely fine.
The reason he's doing this is he's very soft with the wrist, and he's going to go ahead and set those wrists very late in the swing. So one of the things that a lot of players struggle with is we set these wrists very early, and then we don't get a lot of lag.
We can see here as he does his takeaway, he's feeling like his thumb, right thumb, would be pointing more down to the ground. His left thumb would be pointing more down to the ground.
You almost feel a little stretch on top of these forearms here, and that's keeping the club from setting right away.
Now as he continues to the top of the swing, he's going to get a good, full turn going back and then as he increases that lag in the downswing.
At the same point -- let's actually go back and forth there – here we are in the backswing. I'm going to go from the left elbow to the bottom of the grip and then the club shaft. That's in the downswing.
Let's take a look at when this club is in the same position. As he comes down, and you're going to see how much more he has set this club in the downswing.
There – let's pause one more frame – that's a perfect angle. He's in the exact same position with the butt end of the club, and he's increased that angle of lag significantly.
On the way back, very little wrist set. As he starts down, he's going to increase his wrist set until he reaches what we call the max lag position. So we're actually increasing the set of the wrist.
Now those thumbs are going to fold up, the forearms are going to increase the angle of the sharpness between the forearms and the club shaft as we come into the downswing.
This halfway down position, when the left arm's about parallel with the ground, that's when you're maxing out your lag. That's where we teach to really feel like you have the maximum stretch there.
Now for him, he does something really cool as he continues the downswing. I think it will help out a lot of golfers through there. Notice how he keeps his upper body back, but he also keeps his hip back and rotated with that.
So if we continue through contact, we talk about what we call the Compression Line. Meaning that the center of the left ankle, if you draw a line from there at impact up to the center of the shoulder socket itself, that should be tilted back a little bit.
Now he's gone to the extreme, because he wants to launch this ball really, really high. So if we take – we're going to go ahead and measure the angle here. There's zero, he's tilted back 12°, this is very similar to what you'd see with long drive players.
His upper body is tilted back quite a bit to help him to get more of a positive angle of attack on this golf ball, and to launch that ball really, really high. The more you get tilted back, the easier it's going to be.
Here's the crucial piece for this, the piece that makes a huge difference. Look at his left hip socket. It's stayed behind that line. I'd like to see it right on that line or even a little bit behind like we're seeing here with Patrick Rodgers.
Now the reason for that is, that's taking all the strain off of his lower back. His lower back and his hips are all in a straight line there, even though he's tilted away.
If we were to have our hips to bump forward, let's imagine that our hips are right here and from the left shoulder, to the hip, to the ankle looked something like that, a curved line, that's going to create a lot of pain.
In video 2.1 in the Compression Line series that I go over in the Top Speed Golf System, I go over exactly a drill to help you feel that, and to work on this.
Not only are you going to be tilted back, but you've got to keep that hip back also so that you don't get hip pain, you don't get back pain, and you get tons and tons of power. You're going to feel like your hip or your belt buckle is staying on this side of the target.
The farther back your belt buckle can be, you're still rotating open, but the farther back that can be, the easier it's going to be to clear out of the way and get a lot of compression.
You're also going to feel like that left arm is nice and tight against the body. We don't want to have that left arm flying loose.
If we're in this position like we're seeing with him, he's going to be able to have that left arm nice and tight against the body, no problems at all. That's going to really allow him to launch it high and to get good speed from the body, get good speed from the club, to make sure that he hits it a long way.
Now the last thing here is he's really using his legs, and this is something that a lot of people kind of take the wrong way, but we've got to use the legs. We can see at a halfway down position, he's going to go ahead and flex his legs into the ground.
Got a nice bend with the right leg, nice bend with the left leg, and from here, he's going to feel like he's putting some pressure down and out, especially with the lead foot.
Pressure is going to go kind of down and out that way to allow him to rotate those hips open and to allow him to get that nice, high launch position like we talked about earlier in this video.
So you'll notice for him, his front foot actually comes off the ground probably four or five inches. That's fine, that's not going to put a lot of strain on the body as long as we have these good angles with our body positions here.
So great looking swing. I expect he's going to play a long time on the PGA Tour and be a very good player on the PGA Tour, amazing ball striker. Hopefully he'll have a great season coming up.
Incorporate those pieces into your own golf swing, you guys are going to be driving it longer, but still do it in a safe way.
All right, so for those of you that are members of the website, be sure to check out video 2.1 the Eliminate the Hip Pain video, that's in our Compression Line series.
That's going to talk about how we can get this good power, get these good angles, but we're not going to be just leaning our upper body back which can create a lot of problems.
So check out that video, it's going t help you guys a lot. Best of luck with your golf game.