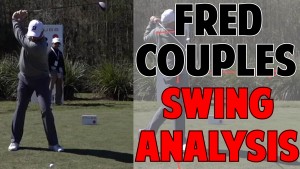 Why You Need This: In this video, you get a great Fred Couples complete swing analysis.
I hear it all the time...
"I'm too old to hit the ball far."
Hey... Don't tell that to Fred Couples.
He's crushing the ball on the PGA Tour Champions (best senior tour).
Is Fred ageless? Does he have super strength?
Well, I doubt he's ageless or a super hero...
So how does he still generate so much speed in his swing as he gets older?
Find out in this video.
You'll learn how to put Fred Couples' speed moves in your swing.
Watch now to whip the club through with speed and crush it like Fred Couples!
**Attention Top Speed Golf All Access Members**
In the video, I mentioned a few additional videos in the TSG System that'll help you develop the moves discussed in this Fred Couples analysis.
Here are the links to those videos...
2.1 Athletic Golf Swing: Nose Behind the Line
3.1 Unlock Your Golf Swing Shoulder Turn: Protraction & Retraction
1.2 Golf Swing Release Point Drill: Golf Ball in Front
Golf Pros Featured: Fred Couples
Instructors Featured: Clay Ballard
Video Duration: 16:48
Watch This Video Now!
Normally, this video in our step-by-step, course-based training is only available to our All Access Members...
But I'll let you watch this ONE video today only... because I can already tell I'm going to like you !