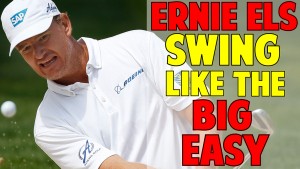 Why You Need This: In this Ernie Els golf swing analysis, you'll learn how to make a smooth and powerful swing just like the "Big Easy."
Ernie makes golf look easy.
He can blast a 300-yard drive with an effortless-looking swing.
So how does he generate so much power with such an easy looking swing?
What's Ernie doing in his swing that most golfers aren't?
Find out in this video...
You'll learn how Ernie's swing matches up with the fundamentals of the Top Speed Golf System.
Discover...
How to keep your spine angle consistent throughout the swing,
How to build lag like Ernie, and
How to finish with a powerful release through contact.
Watch now to develop a smooth and powerful swing like the "Big Easy!"
Golf Pros Featured: Ernie Els
Instructors Featured: Clay Ballard
Video Duration: 7:50
Watch This Video Now!
Normally, this video in our step-by-step, course-based training is only available to our All Access Members...
But I'll let you watch this ONE video today only... because I can already tell I'm going to like you !