Links to your video lessons are below.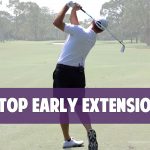 To reach your potential as a golfer, you've got to stay in your posture throughout your swing.
Losing your posture — or early extension — is one of the most common issues players struggle with.
Stand up during the swing and you'll forever be inconsistent.
But with this bonus course, you'll overcome this problem once and for all!
Course Materials